The Post Doc Lunch Club: Pizza and Community
We've all heard there's no such thing as a free lunch, but if you're an MCB postdoc, that adage doesn't apply. Each month the Postdoc Lunch Club (PDLC) gathers over free pizza or sandwiches and soft drinks, allowing postdocs to network with their peers, interact with faculty members and outside speakers, gain insider knowledge, share strategies for success, and learn about other research for possible scientific collaborations.
Spending so much time in their respective labs, postdocs can become isolated. As a result, the PDLC was founded in 2010 by Te-Wen Lo and Fred Tan to help create community support and recognition for each other's work. The club shares information about fellowships and grants, career development and job searching, and balancing work-life issues. They announce the lunches — typically held monthly — via an MCB listserve.
"As postdocs, we're always pressed for time to design and work on our experiments, write fellowship proposals, and prepare manuscripts for publication," says Kevin Mark, a postdoc in Michael Rape's lab. "While these are all important for career advancement, we often miss the opportunity — and the excuse — to meet with peers who are working toward the same goal."
Join the club and become a part of MCB's postdoc community! Click here for more information.

"Is a PhD for Me?" Conference a Success

"Is a PhD for Me?", a conference for students with disabilities who are contemplating applying to graduate school in the biomedical sciences, was held on Saturday, April 14th. The event drew students from UC Berkeley, UC Davis, San Francisco State University and Mills College.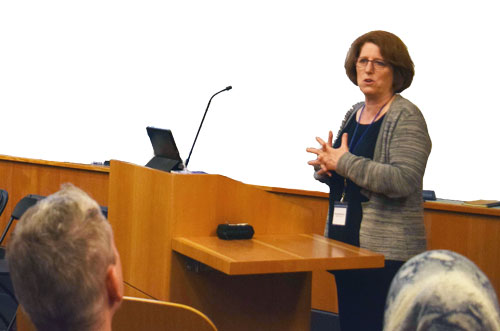 Featured speakers included Bill Burkholder, Scientific Program Management at the Chan Zuckerberg Biohub, and Mona Minkara, Postdoc at the University of Minnesota. Both described their career paths and strategies for success in the face of visual impairments. The event also featured panel discussions with the director of the UC Berkeley Disabled Students Program, Karen Nielson, as well as with graduate students and faculty. Discussions focused on strategies for applying to and succeeding in graduate school. Rounding out the event were science talks from UC Berkeley faculty members Diana Bautista from MCB and John Dueber from Bioengineering.
This "Is a PhD for Me?" conference for students with disabilities builds on the success of previous events for students from underrepresented backgrounds that were held at Prairie View A&M University, Agnes Scott College and UC Berkeley. Sponsors of the conference included several T32 training programs, including: The Molecular Basis of Cell Function, Neuroscience, Chemical Biology, and Biophysics. The event was also sponsored by QB3.