Alumni to Reconnect and Share their Successes at 'MCB 30' Symposium
As MCB turns 30, alumni are returning to celebrate, share their accomplishments, and reconnect with each other and the department at the Alumni Symposium on May 4, 2019. Nine distinguished alumni — from professors to science communicators to CEOs — will give talks about their varied careers and share the role MCB played in their journey. Several of these featured alumni speakers have given back to Berkeley in big ways by helping current MCB students explore and prepare for careers in their respective fields.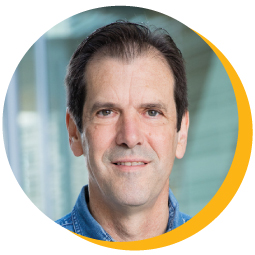 Raymond Deshaies
One such speaker is Raymond Deshaies (Biochemistry PhD 1988, Schekman lab), senior vice president for global research at Amgen. "Berkeley was absolutely instrumental in my formation as a scientist," he says. Thanks to Deshaies' leadership, Amgen is supporting future scientists at Berkeley with a generous donation through the MCB Industrial Affiliates Program, which will support the tuition, fees, and stipend of an MCB PhD student for one year.
The partnership between Berkeley and Amgen also includes year-round interactions with students, postdocs, and faculty through on-campus recruiting events, participation in departmental research retreats, and more. Deshaies says the alliance is "a win-win for not only the students and faculty, but for Amgen as well, because it gives us access to the great reservoir of talent on the Berkeley campus."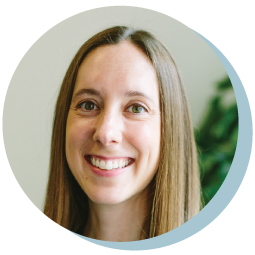 Rachel Haurwitz
Another speaker who has created valuable opportunities for Berkeley students is Rachel Haurwitz (MCB PhD 2012, Doudna lab), co-founder, president, and CEO of Caribou Biosciences, and co-founder of Intellia Therapeutics. Her company, Caribou, created an internship program for students interested in biotech, which an MCB PhD student completed last summer. Haurwitz says: "It's fun to have young, enthusiastic people involved in the organization, and it's a great way for the company to identify potential future employees. Because Caribou is a small startup, the interns are exposed to various aspects of the business and are able to evaluate career opportunities beyond bench science."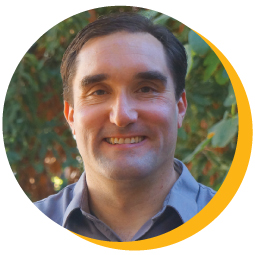 Victor Holmes
A third speaker, Victor Holmes (MCB PhD 2001, Cozzarelli lab), senior scientist at Amyris Biotechnologies, says that when he was a graduate student, "the path from PhD training to a position in industry was clouded," so he is motivated to demystify the process for current students. As a guest speaker for the MCB Graduate Student and Alumni Association's Distinguished Alumni Seminar Series, Holmes talked with students about how to move into industry and choose the right position. "The concentration of top-notch scientists as both peers and mentors at Berkeley was (and probably still is) astounding," Holmes says. "I will always be deeply grateful for the opportunities I had during my training . . . and I'm happy to take whatever opportunity arises to give something back." Like Deshaies and Haurwitz, Holmes feels that giving back is beneficial for both the students and alumni, saying that he appreciates being able to meet Berkeley students who "would be great to have as future coworkers."
Learn more about the MCB 30 Alumni Symposium, view the full list of acclaimed alumni speakers, and RSVP to celebrate with us! Visit mcb.berkeley.edu/mcb30.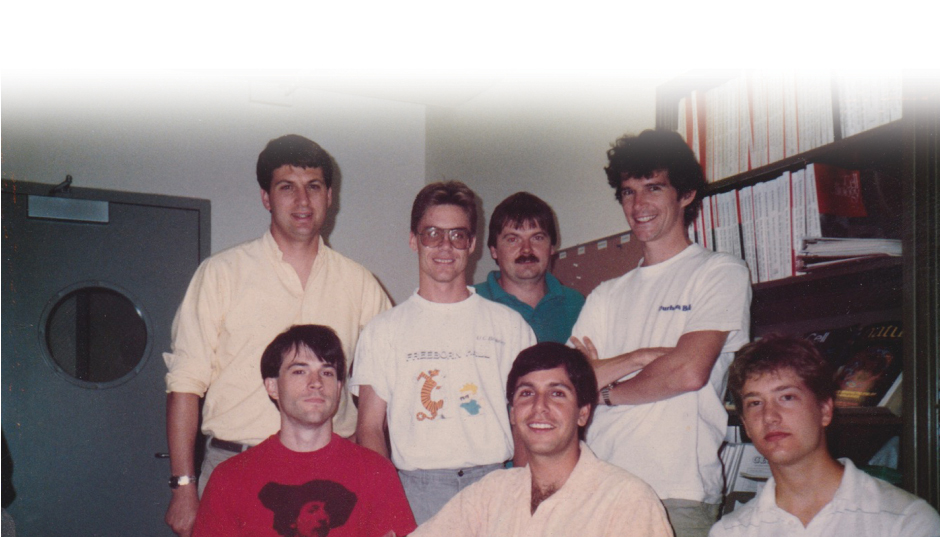 Above image: ca. December 1989 Drubin lab social gathering. Top L to R: David Drubin, Alec, Viktor Magdolen, Winthrop "Jack" Jackman. Bottom L to R: Evan Read, Doug Holtzman, Matthew Welch
Top banner image: Tie-Dye technique which demonstrates how the same protein (Dpp) can promote growth (large patches) in different parts of the same tissue of the Drosophila wing disc. Courtesy of the Hariharan lab, MCB Cell & Developmental Biology Division.
Back to Main Spring 2019 Newsletter Page