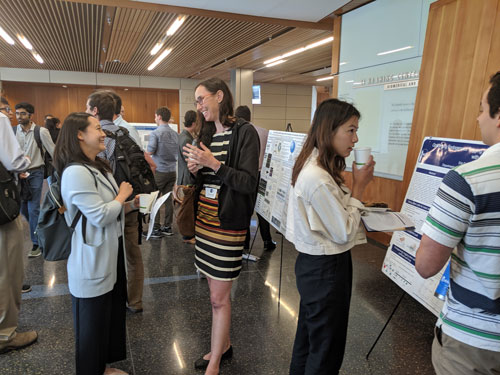 May Tan, Preclinical Pharmacology Scientist at Nurix, learns about the research of Cal students and postdocs during the poster session.
On September 27, the MCB Industrial Affiliates Program (IAP) held its third annual Fall 2019 IAP Symposium. Industry experts from Bay Area biotechnology partner companies attended, from small startups to global entities. In attendance were Amgen, Eureka Therapeutics, IDbyDNA, NGM Bio, Nurix, Pionyr Immunotherapeutics, Proneurotech, Tenaya Therapeutics, and Thermo Fisher.
The event drew students, postdocs, staff and faculty members of MCB and the greater campus community together for an afternoon of scientific exchange and building new partnerships.
The event began with presentations from industry representatives discussing the innovative research happening at their companies, perspectives in biotech, and opportunities for students and postdocs looking to transition into industry. After the presentations, students and postdocs shared their research at an interactive poster session where they had a chance to meet and make meaningful connections with the industry partners.
Kara Normura, Senior Manager of R&D at Thermo Fisher, presents about the diverse range of opportunities for those interested in careers in industry.
This symposium provides an opportunity for the industry affiliates attending to interact, connect, and discuss collaboration, consulting, employment and other partnering opportunities with MCB and several other departments on campus. Hosting annual events such as the Fall Symposium help to strengthen the bond between industry and academic research and drive innovation.
To learn more about the Industrial Affiliates Program and how to participate in future events, please visit the IAP website at mcb.berkeley.edu/iap.