Industry-minded MCB students and postdocs were enthusiastic about the opportunity to meet industry representatives and ask questions about careers in biotech at the recent MCB Industrial Affiliates Program event on April 10, 2018.
The event drew close to 100 attendees including 15 representatives from leading biotech companies such as Amgen, Driver, NGM Biopharmaceuticals, Nurix, Roche Sequencing Solutions, Thermo Fisher Scientific and Agenovir/Vir Biotechnology. Industry panelists answered questions on the essential skills and qualities they look for in candidates, what experience to acquire as a student or postdoc when preparing for work in biotech, and how to effectively transition from academia to industry, among many others.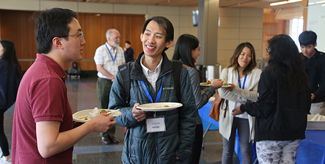 Everyone in attendance also enjoyed presentations from MCB faculty about the current and future research directions of the department and a networking lunch. To learn more about the IAP program or participate in future events, please email mcbiap@berkeley.edu or visit our website: mcb.berkeley.edu/iap.