Home

Faculty and Research

Faculty by Name

Richard Steinhardt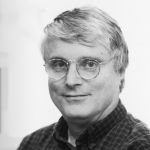 Richard Steinhardt
Professor Emeritus of Neurobiology

Full Directory Information
Research Interests
We use molecular, biophysical and cell biological approaches to understand how intracellular signals control cell structure and function.
Current Projects
The surfaces of cells are highly dynamic as internal vesicles are added and subtracted. There, events lead to both short-term and long-term modifications of cell membrane area and membrane function. Most of these events are controlled by calcium signaling, which uses similar molecular mechanisms to accomplish membrane additions in neurosecretion, synaptogenesis and membrane repair. We are following leads in this area by observing exocytosis at newly created docking sites and studying the recruitment of vesicles to these docking sites. It has been possible to observe long term potentiation of exocytosis in single cultured cells.

The focus of our current studies has been the molecular mechanisms used for membrane resealing. The understanding gained appears to have potential use in improving outcomes in major high-risk surgeries.
Selected Publications
The mechanisms of cell membrane repair: a tutorial guide to key experiments. [ Richard A. Steinhardt (2006) Annuals of the New York Academy of Science 1066, 152-165 ]

Three stages (and a dividend) on my personal road to Ca(2+) activation at fertilization. [ Richard Steinhardt (2006) Seminars in Cell and Developmental Biology 17, 226-228 ]

Shaky ground for lysosome-dependent membrane repair. [ Richard A. Steinhardt (2005) Science STKE 304, lc1 ]

Cardiology: rips repaired. [ Richard A. Steinhardt (2005) Nature 436, 925 ]


The mechanisms of cell membrane resealing in rabbit corneal epithelial cells. [ Sheldon S. Shen and Richard A. Steinhardt (2005) Current Eye Research 30, 543-554 ]


Molecular regulation of membrane resealing in 3T3 fibroblasts. [ Sheldon S. Shen, Ward C. Tucker, Edwin R. Chapman and Richard A. Steinhardt (2005) Journal of Biological Chemistry 280, 1652-1660 ]

Nonmuscle myosin IIA and IIB have distinct functions in the exocytotic-dependent process of cell membrane repair. [ T. Togo and R. A. Steinhardt (2004) Molecular Biology of the Cell 15, 688-695 ]

Plasma membrane disruption: repair, prevention, adaptation. [ P.L. McNeil and R.A. Steinhardt (2003) Annual Review of Cell and Developmental Biology 19, 697-731 Review ]

Long-term potentiation of exocytosis and cell membrane repair in fibroblasts. [T. Togo, J. M. Alderton, and R. A. Steinhardt (2003) Molecular Biology of the Cell 14, 93-106]

A decrease in membrane tension precedes successful cell-membrane repair. [T. Togo, T.B. Krasieva and R. A. Steinhardt (2000) Molecular Biology of the Cell 11, 4339-4346]

Evidence for a vesicle-mediated maintenance of store-operated calcium channels in a human embryonic kidney cell line) [J.M. Alderton, S.A. Ahmed, L.A. Smith, and R. A. Steinhardt (2000) Cell Calcium 3, 161-169.]

Increased activity of calcium leak channels by proteolysis near sarcolemmal ruptures. [G. C. McCarter and R. A. Steinhardt (2000) Journal of Membrane Biology, 176, 169-174]

Ca2+ entry through store-operated channels in mouse sperm is initiated by egg ZP3 and drives the acrosome reaction. [C. M. B. O'Toole, C. Arnoult, A. Darszon, R. A. Steinhardt, and H. M. Florman (2000) Molecular Biology of the Cell 11, 1571-1584]

Calcium influx through calcium leak channels is responsible for theelevated levels of calcium-dependent proteolysis in dystrophic myotube.[J. M. Alderton and R. A. Steinhardt (2000) Trends in Cardiovasular Medicine 10, 268-272. Review ]


Calcium influx through calcium leak channels is responsible for the elevated levels of calcium-dependent proteolysis in dystrophic myotube. [J. M. Alderton and R. A. Steinhardt (2000) Journal of Biological Chemistry 275, 9452-9460]

The mechanism of facilitated cell membrane resealing. [T. Togo, J. M. Alderton, G.-Q. Bi, and R. A. Steinhardt (1999) Journal of Cell Science 112, 719-731; http://www.biologists.com/JCS/112/05/jcs4645.html]

Kinesin- and Myosin-driven Steps of Vesicle Recruitment for Ca2+-regulated Exocytosis. [G.-Q. Bi, R. L. Morris, G. Liao, J. M. Alderton, J. M. Scholey, and R. A. Steinhardt (1997) Journal of Cell Biology 138, 999-1008; http://www.jcb.org/cgi/content/full/138/5/999]

Loss, restoration, and maintenance of plasma membrane integrity. [P. L. McNeil and R. A. Steinhardt (1997) Journal of Cell Biology 137, 1-4]

A critical evaluation of resting intracellular free calcium regulation in dystrophic mdx muscle. [F. W. Hopf, P. R. Turner, W. F. Denetclaw, P. Reddy, and R. A. Steinhardt (1996) American Journal of Physiology 271, C1325-1339]

A capacitative calcium current in cultured skeletal muscle cells is mediated by the calcium-specific leak channel and inhibited by dihydropyridine compounds. [F. W. Hopf, P. Reddy, J. Hong and R. A. Steinhardt (1996) Journal of Biological Chemistry 271, 22358-67]

Calcium-Regulated exocytosis is required for cell membrane resealing. [G.-Q. Bi, J. M. Alderton, and R. A. Steinhardt (1995) Journal of Cell Biology 131, 1747-58]

Cell membrane resealing by a vesicular mechanism similar to neurotransmitter release. [R. A. Steinhardt, G. Bi, and J. M. Alderton (1994) Science 263, 390-393]

An increase in intracellular pH during neural induction in Xenopus. [A. K. Sater, J. M. Alderton, and R. A. Steinhardt (1994) Development 120, 433-442]

Heterokaryon myotubes with normal mouse and Duchenne nuclei exhibit sarcolemmal dystrophin staining and efficient intracellular free calcium control. [W. F. Denetclaw Jr., G. Bi, D. V. Pham and R. A. Steinhardt (1993) Molecular Biology of the Cell 4, 963-972]

Proteolysis results in altered leak channel kinetics and elevated free calcium in mdx muscle. [P. R. Turner, R. Schultz, B. Ganguly, and R. A. Steinhardt (1993) J. Membrane Biol. 13, 243-251]

Regulation of intracellular free calcium in normal and dystrophic neurons. [F. W. Hopf and R. A. Steinhardt (1992) Brain Res. 578, 49-54]

Increased calcium influx in dystrophic muscle. [P. R. Turner, P. Fong, W. F. Denetclaw, and R. A. Steinhardt (1991) J. Cell Biol. 115, 1701-1711]

Calcium regulation of the first cell cycle of the sea urchin embryo. [R. A. Steinhardt (1990) Ann. N.Y. Acad. Sci. 582, 199-206]

Multifunctional Ca2+ / calmodulin protein kinase is necessary for nuclear envelope breakdown. [C. Baitinger, J. Alderton, M. Poenie, H. Schulman, and R. A. Steinhardt (1990) J. Cell Biol. 111, 1763-1773]

Increased activity of calcium leak channels in myotubes of Duchenne human and mdx mouse origin. [P. Fong, P. R. Turner, W. F. Denetclaw, and R. A. Steinhardt (1990) Science 250, 673-676]

Active involvement of Ca2+ in mitotic progression of Swiss 3T3 fibroblasts. [J. Kao, J. M. Alderton, R. Y. Tsien, and R. A. Steinhardt (1990) J. Cell Biol. 111, 183-196]

Increased protein degradation results from elevated free calcium levels found in muscle from mdx mice. [P. R. Turner, T. Westwood, C. M. Regen, and R. A. Steinhardt (1988) Nature 335, 735-738]

Intracellular free calcium rise triggers nuclear envelope breakdown in the sea urchin embryo. [R. A. Steinhardt and J. Alderton (1988) Nature 332, 364-366]
Last Updated 2006-08-18