Elçin Ünal investigates what makes meiosis tick and how it can turn back the clock
By Rachel Henderson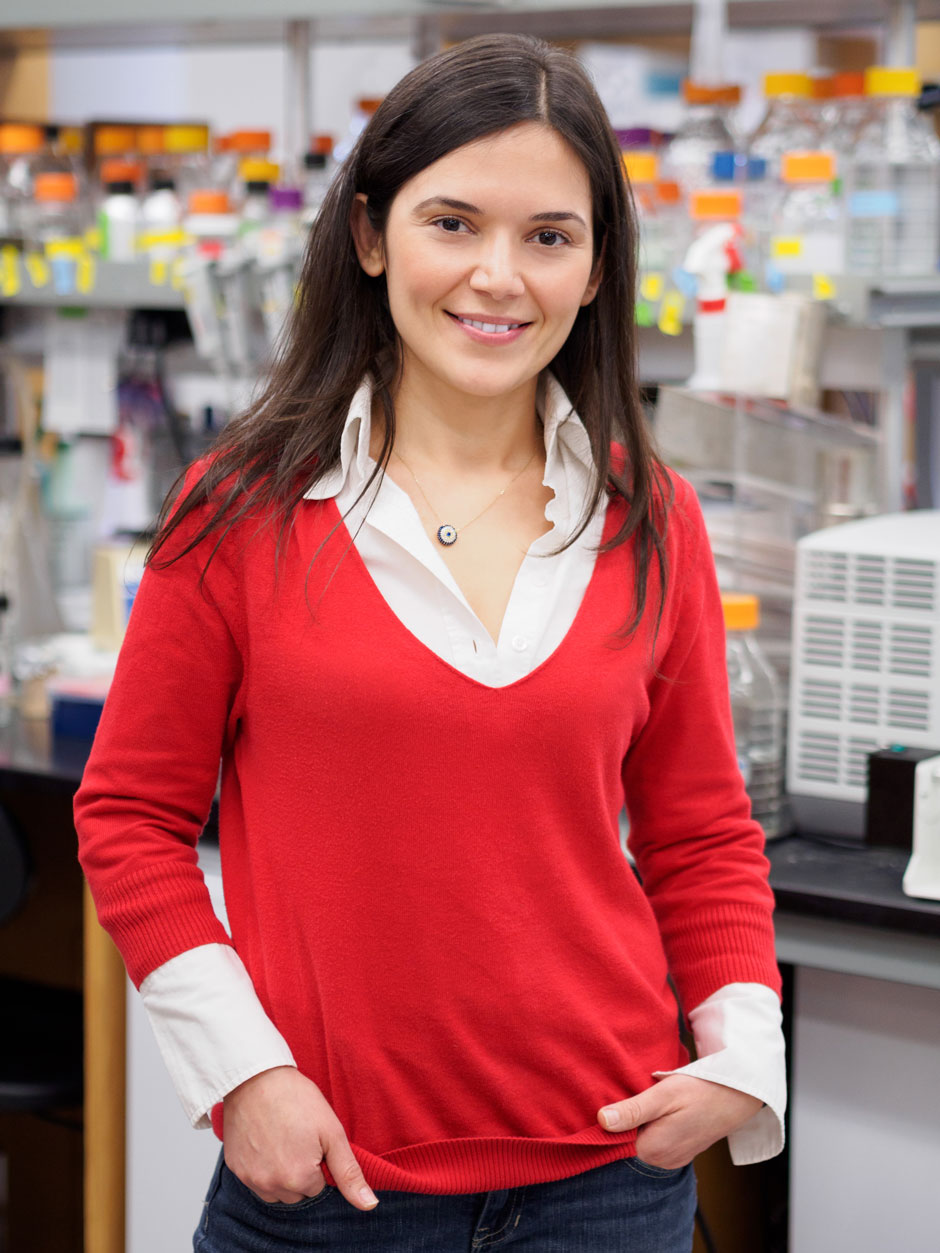 Ünal's lab studies the principles that control the nuclear and cytoplasmic integrity of gametes.
From traveling internationally to launch her scientific career, to developing her own unique research program at the intersection of meiosis and aging, MCB Associate Professor Elçin Ünal relishes exploring new territory. Ünal seeks to understand how meiosis — the cell division process that produces gametes such as eggs and sperm — is regulated to produce healthy cells and how it can also restore old cells to a younger state.
Ünal grew up in Turkey and credits one of her high school teachers for inspiring her to study molecular biology. She earned her BS at Bilkent University in Ankara but had to look outside of Turkey to gain research experience, applying to around 100 summer internships across Europe and the US in her junior year. She got into only one, at Johns Hopkins University, and that internship was pivotal to her career.
"That was the main reason why I was able to go to graduate school," Ünal says. She earned her PhD at Johns Hopkins in the lab of Doug Koshland, who is now also a faculty member in MCB. Her graduate work focused on how protein complexes called cohesins are involved in chromosome structure and DNA repair.
At Johns Hopkins, Ünal became intrigued by meiosis. "It's a fundamentally very important process that makes the starting material for the next generation," she says. She began studying meiosis as a postdoc in Angelika Amon's lab at MIT, where she developed research questions that were quite different from what other scientists in the field were studying.
"I wanted to have my own niche," Ünal explains. She studied quality control mechanisms in meiosis, which led her into the field of aging. "Many labs are interested in understanding how aging affects the efficiency of meiosis. But I wanted to answer the reverse question — how meiosis itself impacts cellular aging."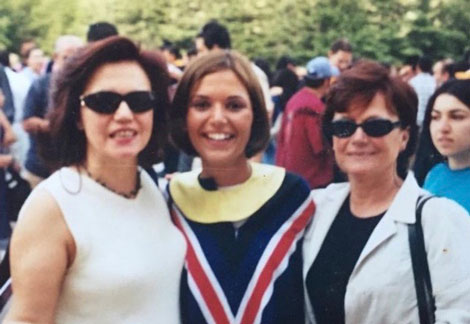 Ünal with her mom and aunt at her college graduation in Turkey.
Ünal brought her innovative research program to Berkeley when she joined the faculty in 2014. "I just fell in love with Berkeley at first sight," she says, citing the diversity of research and people and the energy of the MCB community in her decision to choose Berkeley over other schools.
In her lab, Ünal studies how gene expression regulates meiosis, primarily in yeast; how healthy gametes are produced; and how old cells that undergo meiosis produce progeny that are "born young" — meaning they do not inherit their parent's age-related cellular changes.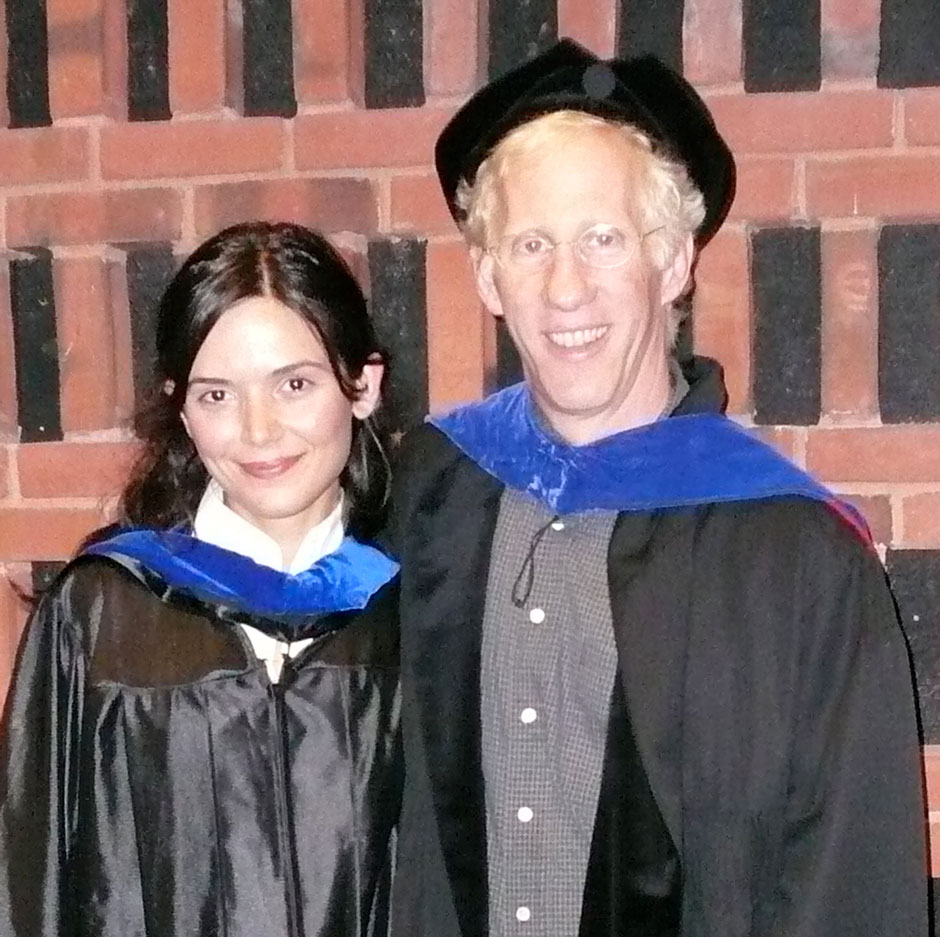 Ünal with her PhD mentor, Doug Koshland, at the John Hopkins commencement ceremony in 2007.
"The cool thing is that not only can we understand the biology of how this natural rejuvenation program works, but we may have a way of transplanting some of these components into otherwise nonmeiotic cells to see some of these beneficial effects," she says. One such benefit could be to remove protein aggregates — a hallmark of some age-related diseases such as Alzheimer's. Ünal stresses that any therapies are likely to be a long way off, but she is excited to launch a new collaboration with the Innovative Genomics Institute on campus to extend her work further into human cells.
In addition to the thrill of discovery, Ünal greatly enjoys teaching and mentoring because they bring her "excitement and joy" on a daily basis as she sees students suddenly understand concepts or come up with creative new ideas. Ünal was recently awarded tenure this spring.
To learn more about Ünal's research, visit her lab website at http://www.unallab.org/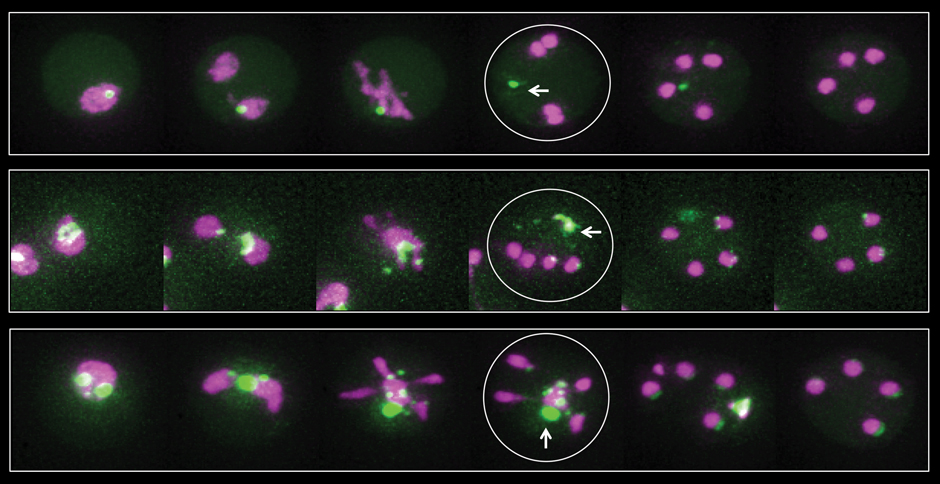 Above: The Ünal lab is interested in how meiosis naturally resets the aging clock. Live cell imaging of aged cells undergoing meiosis. Magenta marks DNA and different types of age-induced damage are in green. Arrows point to protein aggregates (top panel), ribosomal DNA circles (middle) and nucleolar damage (green), which are first sequestered away from meiotically segregating DNA and subsequently eliminated. Images by Jay Goodman, Ünal lab.
Banner image: Fluorescent microscopy (top) showing coding (red) and non-coding (green) mRNA that control the expression of an essential chromosome protein. DNA is shown in blue. Image by Jingxun Chen, Ünal lab.
Back to Main Spring 2020 Newsletter Page