The Lasting Legacy of Choh Hao Li
Choh Hao Li (1913-1987) received a PhD in Chemistry from Berkeley in 1938 and went on to make an immense contribution to science by isolating and identifying eight of the nine pituitary hormones. He received at least 25 scientific awards and published 1,100 articles. But C.H. Li also left another lasting scientific legacy — a generous endowment that supports scientific advances and training in MCB.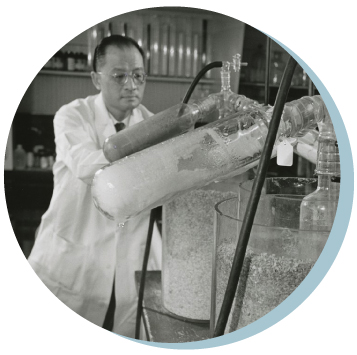 Choh Hao Li (above and banner photo), UCB PhD 1938. Photos courtesy UCSF Archives & Special Collections
C.H. Li emigrated from China in 1935 to attend graduate school at Berkeley. In 1950, he joined the faculty at Cal to establish the Hormone Research Laboratory. As director, his research team was able to determine the amino acid sequences and synthesize the active cores of these eight pituitary hormones, which include beta-endorphin and luteinizing hormone. He also analyzed and synthesized human growth hormone, which doctors then used to treat patients with growth hormone deficiency.
After his death, his family established the C.H. Li Memorial Fund. "One of my father's last wishes was for the family to acknowledge Cal for its initial support as well as continuing support in later years," says his son Wei-i Li, MD. "He felt that Cal allowed him to pursue a lifelong academic career." Several members of his family also attended Berkeley, including his wife Annie (MS 1942), his son Wei-i (BS 1961), his daughter Ann-si (BA, DVM 1967), his daughter Eva (BS 1968), and his grandson Mark (BS 1990). "The family is grateful to Cal," W. Li says.
The C.H. Li Memorial Fund supports several key areas including a faculty chairship, a lectureship, graduate student fellowships, and funding for basic research. W. Li says: "We felt that funding for basic research had been neglected, in contrast to funding for applied research. By restricting our gift to basic research, we believed that this policy supported one of the basic tenets of a university."
C.H. Li Graduate Fellow Michael Ly
MCB's focus on basic research and training the next generation of scientists are key components of its graduate program. Support from the C.H. Li endowment has had a positive impact on its ability to recruit and support the best and brightest students. One of the recent fellowship recipients is Michael Ly, a second year PhD student with a biochemistry research focus. He is the first in his family to go to college, graduated with Honours from the University of Toronto, and was on the Dean's list for all four years of his undergraduate degree.
The C.H. Li Fellowship has funded Ly's first two years of graduate school. "It really helped me, having this source of funding during the starting point of my career when I was developing my scientific interests," Ly says. Ly is in Britt Glaunsinger's lab, where he is researching the relationship between mRNA stability and transcription. He hopes to do an academic postdoctoral fellowship after he graduates.
Help support the next generation of scientists!
Contact Kirsten Swan, Assistant Dean of Development at 510-643-2228 or kswan@berkeley.edu.
Back to Main Spring 2019 Newsletter Page