By Kirsten Mickelwait
Collaborations:
Ray Deshaies & Amgen Inc.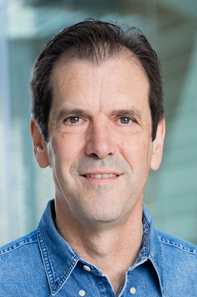 Amgen — one of the world's leading independent biotechnology companies, with a presence in more than 100 countries — develops medicines for illnesses with limited treatment options. Now it's giving back again by making a generous gift through the MCB Industrial Affiliates Program that will support an MCB PhD student for one year.
"Graduate students are the future of this industry," says Amgen's Senior VP of Discovery Research Ray Deshaies. "Berkeley is not only proximal to our San Francisco facility but also has one of the premier graduate programs in the U.S." The alliance between Amgen and Berkeley will build a partnership through year-round interactions at recruitment events, department seminars, the yearly retreat and more — fostering one-on-one exchanges with students, postdocs, and faculty.
Deshaies received his PhD in biochemistry from Berkeley, where he worked in Randy Schekman's lab and where Robert Tjian served on his qualifying exams. "Berkeley was absolutely instrumental in my formation as a scientist," he says. To today's graduate students, he advises, "Read widely, think broadly, build good relationships, and just invest as much energy as you can in pushing your science forward."
MCB Hosts Alumni Healthcare Networking Event
At the annual JP Morgan Healthcare Conference held in San Francisco in January, MCB hosted its first event for alumni now working in industry. The conference brought together healthcare companies and investors from around the world, and the MCB alumni reception drew over 40 undergrad and PhD alumni — with graduation years ranging from as far back as 1972 to our most recent graduates. Classmates and faculty enthusiastically reconnected and learned about exciting new initiatives like the MCB Industry Affiliates Program (IAP) and the new undergraduate MCB-Business double major (BioBiz) that will launch in Fall 2018.
"I got to meet strangers with curious and interesting experiences who seemed immediately familiar," said IntegenX Marketing Director Patty Chiang Love (BA 2005). "Unlike events with my fellow Harvard Business School alumni, Cal has few prescribed norms of what networking looks like. So the conversation topics can be pleasantly spontaneous and multidirectional." Love says that her MCB degree has been crucial to her professional success. "Early in my career, it differentiated me from other financial analysts in investment banking," she says. "I was able to use the scientific method as a framework for quantifying competitive advantages of biotech companies relative to peers in their sector and I used foundations in molecular biology to understand the mechanisms of actions of new drug candidates."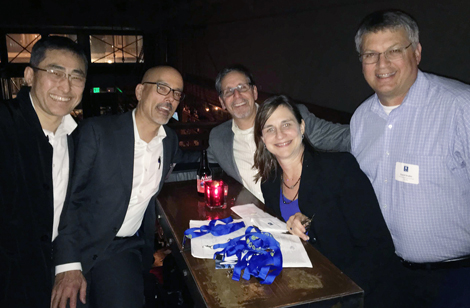 To learn more about the MCB's Industrial Affiliates Program, visit their website.