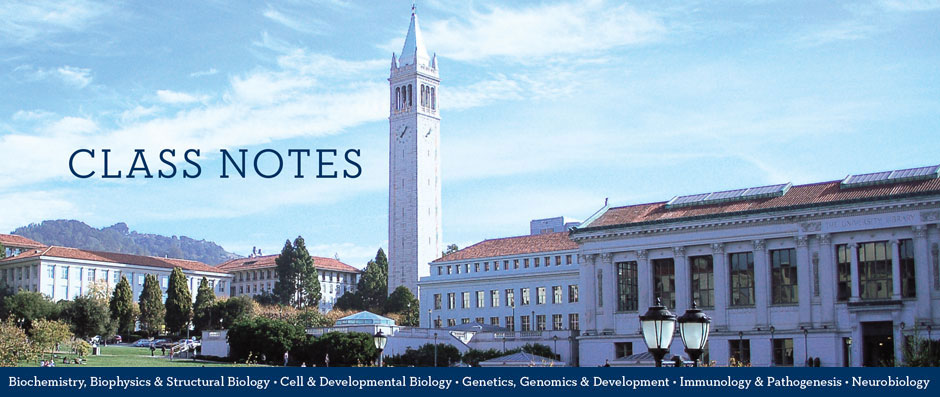 Sarah Abdulla (BA 2011) is a surgery resident physician at Harbor UCLA Medical Center.
Sayed Badrawi (AB 1983) is the CEO of PDS Life Sciences, a global provider of software and analytical tools for life sciences research and pharmaceutical drug development.
Francis Ka-Ming Chan (PhD 1996) is a professor at the University of Massachusetts Medical School in the Department of Pathology.
Elle Fukui (BA 2017) is currently a research assistant at the Lynch Lab at the University of California, San Francisco, investigating microbial colonization in the fetus and its role in immune tolerance.
Aubree Gordon (MA 2002) is an assistant professor at the University of Michigan in the Department of Epidemiology.
James Hagman (BA 1979) studies lymphocyte development and epigenetics as a professor of biomedical research at National Jewish Health in Denver, CO, and as an affiliate faculty member in immunology and microbiology at the University of Colorado Anschutz Medical Campus.
Phil Harriman (PhD 1964) served as the program director for genetics at the National Science Foundation for 24 years and is now on the Board of the Osher Lifelong Learning Institute at Sonoma State University and chair of the Institute's Curriculum Committee.
Courtney Mullen (BA 1985) is a medical student at Quinnipiac University.
David Rosenfeld (BA 1993) is an author who recently published a novel, Cupid's Arrow, in addition to four previous books of poetry.
Courtney Sarkin (BA 2016) will be graduating with a master of bioethics degree from Harvard Medical School this May and be an incoming health services research, policy, and administration PhD student at the University of Minnesota in the fall.
Alex Smoligovets (PhD 2002) is a competitive intelligence manager at Genentech.
Taryn Sumabat (PhD 2018) will be a senior associate at BluePrint Research Group in New York City, performing market research to help companies in the life sciences industry make strategic decisions.
Bryan Thurtle-Schmidt (BA 1985) is a newly appointed assistant professor of biology at Davidson College.
Patricia Valdez (PhD 2001) is an extramural research integrity officer at NIH and recently wrote a children's book about women in science, Joan Procter, Dragon Doctor.
Melody Wei (BA 2017) is currently in Tanzania serving as a Peace Corps volunteer teaching basic mathematics at a secondary school in her village.
Evan Worden (PhD 2016) is a Damon Runyon Postdoctoral Fellow at The Johns Hopkins University School of Medicine.
MCB Transcript welcomes stories from our alumni. Click here to let us know what you've been up to!