By Rachel Henderson
When Polina Lishko set out to explore what she calls the "deep black box" of human sperm physiology, she had no idea that her scientific curiosity would lead to her starting a company that aims to produce the first hormone-free contraceptives for both men and women.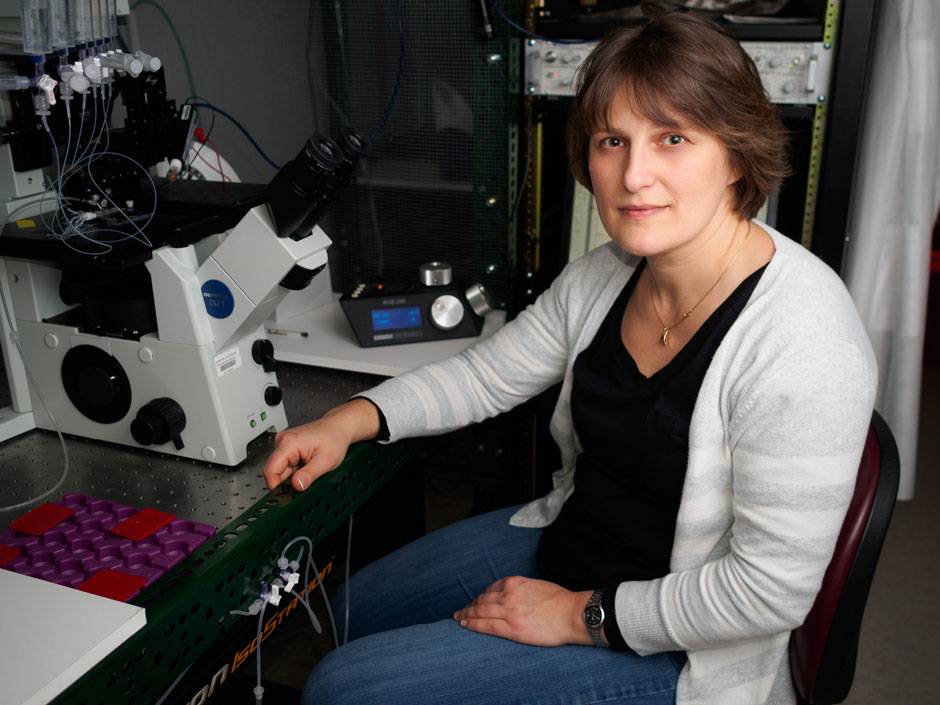 Polina Lishko, MCB Associate Professor of Cell & Developmental Biology and co-founder of

YourChoice Therapeutics.
Lishko is an associate professor in MCB who studies the physiology of mammalian fertilization. She says that little was known about human sperm physiology because the cells are difficult to study, mainly due to their speed and small size — half the size of mouse sperm. Given that only 20% of cases of male infertility have a known cause, as opposed to 80% for female infertility, she wanted to address this major gap in our knowledge of human reproduction.
Lishko adapted a technique first used on mice sperm in 2006, called sperm patch-clamp, for use on tinier human male gametes. In patch-clamp, a micropipette containing an electrode patches onto a small part of the cell membrane to record ion flow, and Lishko was the first to successfully do this in human sperm. This breakthrough enabled her lab to identify and characterize multiple ion channels and other proteins in human sperm that play critical roles in fertilization.
Lishko explains that eggs release the hormone progesterone which sperm use "essentially like a GPS, so they know where the egg is. Progesterone triggers a unique signaling cascade in the sperm tail, which allows sperm cells to swim more aggressively." This hyperactivation is necessary for sperm to reach the egg and drill through its defenses. Some of the sperm molecules identified in Lishko's lab are targets of progesterone, while others produce the energy needed for movement.
Lishko says her lab wanted to see if they could "improve this function or basically shut it down" to either increase fertility or block fertilization. They discovered compounds derived from plants such as Thunder God Vine and Aloe vera that block progesterone signaling in sperm — giving them the potential to be developed as contraceptives for either men or women. The lab also found that niclosamide, an existing medication for tapeworm infections, "drains sperm cells of energy," according to Lishko, thereby preventing them from reaching the egg.
These discoveries led Lishko and a former postdoctoral fellow in her lab, Nadja Mannowetz, to launch YourChoice Therapeutics, so they could develop novel contraceptive products based on these new-found mechanisms. Lishko says she never imagined she would start a company.
"I had to go through a big mental transformation to change my mindset from being a pure academic person to start to think more translationally," she says. She credits the campus for providing the support and expertise to make the idea a reality.
"My colleagues and I are very fortunate to be in an environment that supports entrepreneurship activities. There are a lot of resources available for this," she says, including the Bakar Fellows Program, which provided her with extensive assistance through the startup process.
The first product they are developing will be a biodegradable vaginal film or ring containing niclosamide that could be inserted several days before ovulation and would prevent fertilization for a couple of weeks, covering the entire fertility cycle. They are starting with niclosamide because it was approved by the FDA decades ago and has a "perfect safety profile" according to Lishko. Unlike hormonal birth control, it is not expected to have any side effects, in part because it is not well-absorbed by the body. They are currently testing the product, and Lishko hopes it will be on the market in a few years.
Lishko's research also has implications for infertility and even for understanding migraines, which involve a similar signaling pathway. She is also continuing to study energy production in sperm in order to develop oral contraceptives for men. She points out that men currently have very limited options for contraception and "it's a huge segment of the market that's underserved."
To learn more, visit YourChoiceTherapeutics: https://www.yourchoicetx.com/ and the Lishko lab: http://mcb.berkeley.edu/labs/lishko/home
Back to Main Fall 2019 Newsletter Page