| | |
| --- | --- |
| • Britney Kitamata-Wong (BA 2012) is an associate optometrist at Lamorinda Optometry. | • Rachel Fish (PhD 2002) is a group leader at Takara Bio. |
| • Aaron Cheng (PhD 2013) is the head of Discovery Genome Editing at GlaxoSmithKline where he leads a team applying functional genomics to identify and validate novel disease targets for the development of new medicines. His journey in genome editing has brought him full circle, where he is now a key contributor to the newly-founded Laboratory of Genomics Research, a joint GSK-UC venture with Jennifer Doudna and Jonathan Weissman, based in Mission Bay, San Francisco. | • Dhruv Puri (BA 2018) is a consultant at the World Health Organization where he works in the department of Maternal, Child, and Adolescent Health focusing on improving clinical algorithms for the treatment and identification of neonatal sepsis in rural communities. He will pursue a degree in medicine after the completion of his contract at the WHO. |
| • Jernej Godec (BA 2009) is an associate at Atlas Venture, an early-stage venture capital firm that invests in life sciences startup companies. | • Andrew Grenfell (PhD 2017) is a visiting assistant professor at Carleton College and a postdoctoral associate at the University of Minnesota. |
| • Janice Chen (PhD 2018) is the co-founder and chief research officer of Mammoth Biosciences, a biotechnology company harnessing the gene-editing tool CRISPR for rapid and affordable disease detection. | • Cheng Liu (PhD 1996) is the founder and ceo of Eureka Therapeutics, a clinical-stage biotech company with the goal of curing cancer by developing novel T-cell therapies that harness the evolutionary power of the immune system. |
| • Desiree Stanley (BA 2011) is a genetic counselor at UCSF where she helps patients understand their risk of inherited cancer, works to improve workflows for a high-volume genetic testing station, designs patient education materials, enrolls patients in research studies, and administers genetic testing. | • Liana Lareau (PhD 2008) is an assistant professor in the Department of Bioengineering at Berkeley where her lab uses computational and molecular biology to understand how post-transcriptional regulation leads to robust and flexible control of gene expression. |
| • Jim Graziano (BA 1998) is the senior director of operations at AlivaMab Discovery Services in San Diego, CA. | |

React! The Organic Chemistry Game team members. Winners of the 2017 Big Ideas startup competition, UC Berkeley's international entrepreneurship contest.
• Prerak Juthani (BA 2016)
I loved organic chemistry – despite its reputation as one of the more challenging campus courses. This was because, for me, organic chemistry was like a game – simply use the tools at hand to convert molecule A to molecule B. After graduation, I wanted to share this perspective with other students, so my co-founder Billal Ahmed (Public Health '16) and I, along with six other UC Berkeley students, (with majors ranging from Chemistry to Graphic Design!) worked to create React! – the world's first organic chemistry board game.
With the goal of making organic chemistry less daunting and more enjoyable, we worked for over a year to design an engaging game and ensure we covered the fundamental reactions students learn in a first-year course. To help accomplish this, our team sought advice and feedback from many UC Berkeley faculty and lecturers, including Dr. Anne Baranger, Dr. Pete Marsden, and Dr. MaryAnn Robak.
In summer 2017, React! launched with a successful Kickstarter campaign, where more than $15,000 was crowdfunded in less than two months. Our team also earned additional funding by winning the Big Ideas at Berkeley contest - a global entrepreneurial contest with more than 310 international submissions. React! has also been featured by ABC7 News, the American Chemical Society, and the NPR radio show How I Built This.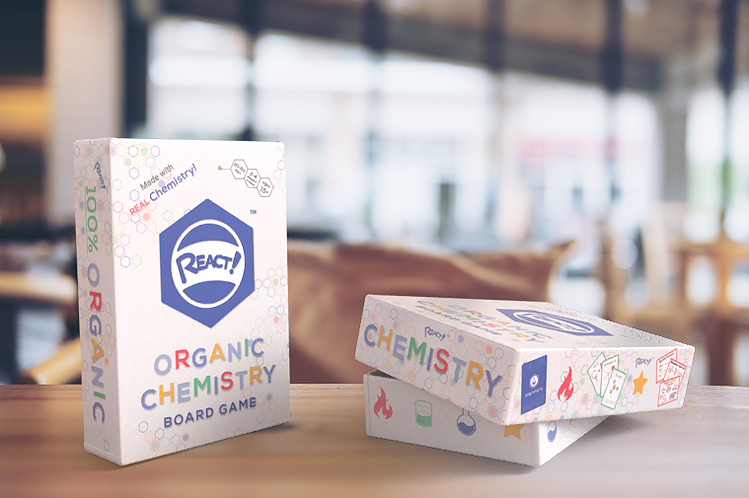 React! is now available for purchase online. Moving forward, our team hopes to partner with universities, high schools, and libraries in order to help as many students as possible experience organic chemistry in a fun and engaging way.
---
MCB Transcript welcomes stories from our alumni. Click here to let us know what you've been up to!
---
Back to Main Fall 2019 Newsletter Page