By Karen Hronek

MCB would like to welcome Professor Donald Rio as a new MCB Co-Chair. He will serve with Professor/Co-Chair David Drubin. We also extend our gratitude to outgoing MCB Co-Chair, Professor Nipam Patel, who has taken a position as Director of the Marine Biological Laboratory at Woods Hole, MA.

HHMI Investigator and Professor Barbara Meyer was awarded the E. B. Wilson Medal, the highest honor for science, from the American Society for Cell Biology (ASCB). It recognizes her significant and far-reaching contributions to cell biology over a lifetime in science. Dr. Meyer was also elected as a member of the National Academy of Medicine, for groundbreaking work on chromosome dynamics that impact gene expression, development, and heredity using the nematode as a model organism.

Assistant Adjunct Professor Denis Titov received a 2018 NIH Director's New Innovator Award, which funds highly innovative biomedical research from "extraordinarily creative scientists" for a period of five years. Dr. Titov seeks to understand how changes in energy metabolism affect aging and age-associated diseases.
Yang Dan
Photo: Noah Berger

Ehud Isacoff
Photo: Keegan Houser



HHMI Investigator and Professor Yang Dan and Professor Ehud Isacoff were elected to the National Academy of Sciences. The academy is the most prestigious scientific society in the United States and provides science, engineering and health policy advice to the federal government and other organizations. Dr. Dan's research explores how the brain controls sleep and how the brain's frontal cortex exerts top-down executive control over our actions. Dr. Isacoff is developing new techniques to manipulate neurons and their synaptic connections to other neurons in order to understand the brain circuits responsible for perception and motor activity.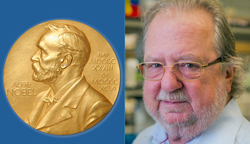 Congratulations to Immunologist James P. Allison who shares the 2018 Nobel Prize in Physiology or Medicine with Tasuku Honjo of Kyoto University "for their discovery of cancer therapy by inhibition of negative immune regulation." Allison performed the basic research that revolutionized immunotherapy at UC Berkeley, where he was a Professor of Immunology and the director of the Cancer Research Laboratory from 1985 to 2004.
Read more about Allison's research here.

HHMI Investigator and Professor Jennifer Doudna received the 2018 Kavli Prize in Nanoscience (shared with Emmanuelle Charpentier and Virginijus Šikšnys) for their groundbreaking invention of CRISPR-Cas9 technology. The Kavli Prize is awarded biennially and recognizes scientists who have made seminal advancements in the fields of astrophysics, nanoscience, and neuroscience. She was also awarded the US patent for CRISPR Cas9 (with Emmanuelle Charpentier) covering the use of CRISPR-Cas9 gene editing with formats that will be particularly useful in developing human therapeutics and improvements in food security. In addition, Dr. Doudna received the 2018 Pearl Meister Greengard Prize, a major international accolade honoring outstanding women scientists. And, she was one of five recipients of this year's Medal of Honor from the American Cancer Society, which recognizes distinguished individuals who have made valuable contributions in the fight against cancer through basic research, clinical research, and cancer control.
Assistant Professor Polina Lishko and Professor David Schaffer were named Bakar Fellows, a program that provides up to 5 years of funding for faculty whose STEM innovations will translate into valuable commercial solutions. Dr. Lishko is currently studying the molecular mechanisms of sperm motility with the goal of producing unisex contraceptives and male infertility diagnostic tests. Dr. Schaffer's research focuses on gene therapy, where his work will lead to more efficient production of treatment delivery vectors.

Professor of the Graduate School Hiroshi Nikaido received the 2018 American Society of Microbiology Lifetime Achievement Award. This award honors scientists who have made sustained contributions to microbiological sciences, of which Dr. Nikaido has made many throughout his extensive career.

Assistant Adjunct Professor Karen Davies received the Department of Energy Early Career Research Award for her work on protein structures and bioenergetics. Dr. Davies' research focuses on electron flow in photosynthesis, and may improve cyanobacteria engineering for biofuels and bioplastics.

Assistant Professor Michel DuPage was named a Hope with Hazel St. Baldrick's Scholar. His funded project aims to target regulatory T cells (Tregs) as a novel method to enhance immune responses to Neuroblastoma (NB) - the third most common form of childhood cancer, and the leading cause of cancer deaths in children 1-4 years of age.

HHMI Investigator and Professor Eva Nogales was elected as the 2020 President of the American Society for Cell Biology (ASCB) and will serve as President-Elect on the Executive Committee in 2019. She also received the ASCB's 2018 Sandra K. Masur Senior Leadership Award, which recognizes an outstanding scientist with "a record of active leadership in mentoring both men and women in scientific careers." In addition, Dr. Nogales was awarded the 2019 Grimwade Medal from the University of Melbourne, for outstanding research in biochemistry and molecular biology.

Professor Matthew Welch was elected as a Fellow of the American Society for Cell Biology (ASCB), which recognizes those in the field of cell biology who have exhibited a career-long commitment to the mission of the ASCB.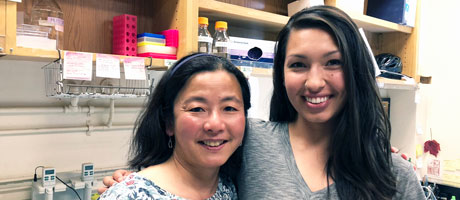 Assistant Professor Kaoru Saijo (with her graduate student Kurtresha Worden) are one of 45 student-adviser pairs to receive a Howard Hughes Medical Institute (HHMI) Gilliam Fellowship. Designed to support students aspiring become academic leaders from groups who are underrepresented in science, and to help their thesis advisers build inclusive training environments, they will receive an annual award including a student stipend and training allowance for up to three years. Dr. Saijo's mentoring skills will be honed by a year of mentor development activities, crucial to supporting a student's research and professional skills. The pair will help to build a strong community of scientists who are committed to advancing diversity and inclusion.

Professor Jeremy Thorner received the 2019 American Society for Biochemistry and Molecular Biology (ASBMB) Herbert Tabor Research Award. This award recognizes scientists who have made outstanding contributions in biochemistry and molecular biology.

Assistant Professor Eunyong Park was named a 2018 Vallee Scholar. He was recognized as an exceptional early career investigator and received funding for a period of four years. Dr. Park's research focuses on the molecular mechanisms of protein translocation across cell membranes.

Professor Georjana Barnes was named the Judy Webb Endowed Chair, established to support faculty with a focus on cancer research at the University of California, Berkeley.
Director of QB3 and Professor Susan Marqusee was re-named the Eveland Warren Endowed Chair, established to support a chair in the division of Biological Sciences in L&S.
MCB Co-Chair and Professor Donald Rio was named the Richard and Rhoda Goldman Distinguished Chair, established to support the teaching and research of the chairholder in Biological Sciences.
Professor Daniel Rokhsar, was appointed as the Marthella Foskett Brown Chair in the Biological Sciences, which supports the research of a faculty member with a preference for quantitative and systems biology.


MCB would like to acknowledge Professor Nilabh Shastri for his 32+ years of teaching, service and research in MCB. He is heading to Johns Hopkins as a Bloomberg Distinguished Professor. An undergraduate award for academic excellence has been named in his honor in recognition of his tremendous impact during his time at Cal.

Funding was received by the following MCB Faculty:
| | |
| --- | --- |
| | |
| Steven E. Brenner | Laurent Coscoy |
| | |
| Daniel Rokhsar | David Schaffer |
Professor Steven E. Brenner: "Machine learning for interpreting rare genetic variation in comprehensive newborn screening and pharmacogenetics."
Associate Professor Laurent Coscoy: "Defining host responses of virus-infected and uninfected neighbor cells."
Professor Daniel Rokhsar: "Beyond model systems: insights into genome evolution and cellular innovations."
Professor David Schaffer: "Social network analysis of neuroimmune interactions in the developing human brain."