This summer marks the first anniversary of Inclusive MCB+ (iMCB+), a mentoring and community-building program that advocates for graduate students in the Molecular and Cell Biology (MCB) Department as well as the Biophysics and Neuroscience programs (+) on campus. iMCB+ creates a space to help students recognize and overcome feelings of uncertainty, isolation, and fear – a program that welcomes all students, but may be particularly helpful for students who are underrepresented in the sciences. By matching students with faculty mentors, hosting training events open to the community, and providing academic support to first-year students, the program helps address both personal (e.g., finances, family, peers, etc.) and institutional (e.g., implicit bias, stereotype threat, etc.) pressures that affect graduate students.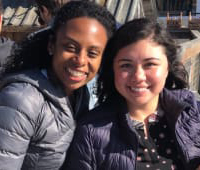 Lisa Eshun-Wilson (left) and Michelle Reid (right)
During the Spring 2019 semester, founder Lisa Eshun-Wilson and director Michelle Reid, both MCB graduate students, aimed to improve upon and grow the program after its successful pilot year. The pair led a successful crowdfunding effort to support an assessment study of iMCB+'s educational model and year-round events. Eshun-Wilson was also formally recognized by the MCB Department for her work in the launch, development, and advocacy of the program.
The annual iMCB+ conference was officially adopted by the MCB department as part of the first year student orientation. The conference features talks from scientists dedicated to improving inclusion in academia. They initiate dialogue and provide participants with information and tools to increase belonging and community among students and the broader MCB and STEM communities.
Eshun-Wilson and Reid will expand on the theme of storytelling and the sharing of individual stories. "This year we hope to illustrate how people's experiences have shaped and inspired their scientific journeys. We also hope to motivate, especially our faculty, to invest time into cultivating an inclusive environment both within the lab and within the department to ensure the safety of underrepresented students," Eshun-Wilson says.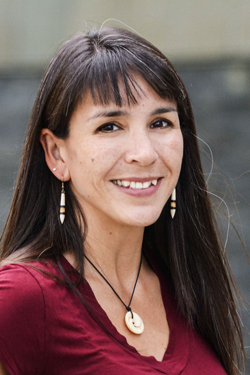 Kathryn (Kat) Milligan-Myhre
On August 23, iMCB+ will host its second annual conference with the theme, "Bridging the Gap: Navigating the traditional academic narrative while maintaining your most authentic self." The Keynote speaker will be Kathryn (Kat) Milligan-Myhre, a University of Alaska Anchorage assistant professor of biological sciences, who is passionate about increasing inclusion in STEM fields.
Join them this August to share your story and help MCB create a more inclusive social climate at UC Berkeley. For more information, contact iMCB+ at inclusive_mcb@berkeley.edu.