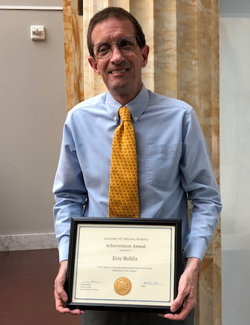 Congratulations to MCB Graduate Student Financial Specialist Eric Buhlis, recipient of a Staff Achievement Award from the UC Berkeley College of Letters & Science!
Eric was recognized for setting the gold standard for helping graduate students navigate their often-complicated funding information, thus enabling those students to better plan financially. He is an exemplary employee and team player whose dedication to MCB deserves the highest praise.
In the past year, Eric excelled in guiding the department through the NIH Training Grant application process, succeeding in bringing Berkeley over $3.8 million (over five years) in critical financial support for graduate student training in genetics. This was no small feat, and Eric's imagination and commitment were crucial to the success of the application process and completion. Importantly, Eric also established a template that will enable the renewal application process to be simplified and streamlined when it is due four years from now.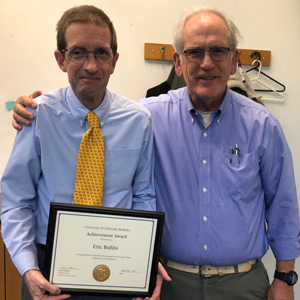 Eric Buhlis and MCB Professor Jasper Rine, who helped with Eric's nomination. Photo Credit: Jasper Rine
Eric is a stalwart of the MCB graduate affairs office, who has continually risen to the challenge of supporting MCB graduate student research from behind the scenes. His dedication to the department represents the core values of both MCB and UC Berkeley, and it's thanks to staff like Eric that UC Berkeley continues to rank as one of the best universities in the world.