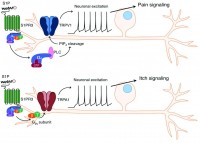 New research from the lab of MCB Associate Professor Diana Bautista demonstrates that a single molecule, sphingosine 1-phosphate (S1P), can cause both pain and itch in the skin of male mice. In the future, treatments that block the receptor for that molecule may control pain and itch sensations in those who suffer from certain skin diseases.
MCB graduate student Rose Hill is first author of the paper, published this week in The Journal of Neuroscience.
Image credit: Hill et al., Journal of Neuroscience (2018).