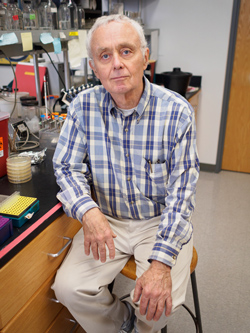 Richard Calendar
Professor of the Graduate School Division of Biochemistry, Biophysics and Structural Biology

Full Directory Information
Research Interests
We are constructing a plasmid vector that will allow insertion of any gene of interest at a defined site on the Bacillus anthracis chromosome. We are characterizing a new class of B. cereus/anthracis phages that may be used for bio-control.
Current Projects
We are constructing an integration vector--a plasmid that can insert in the B. anthracis chromosome--that will allow us to express particular antigens of B. anthracis at a high level. The new phages that we are characterizing are extremely virulent. We intend to determine why this is so.
Selected Publications
Whole genome sequencing of phage resistant Bacillus anthracis mutants reveals an essential role for cell surface anchoring protein CsaB in phage AP50c adsorption. Kimberly A. Bishop-Lilly, Rogerer D. Plaut, Peter E. Chen, Arya Akmal, Kristin M. Willner, Amy Butani, Shakia Dorsey,Vishwesh Mokashi, Alfred J. Mateczun, Carol Chapman, Matroner George, Truong Luu, Timothy D. Read, Richard Calendar, Scott Stibitz, and Shanmuga Sozhamannan. Virology Journal 9:246, 2012
Listeria monocytogenes tyrosine phosphatases affect wall teichoic acid composition and phage resistance. Ran Nir-Paz, Marcel R. Eugster, Einat Zeiman, Martin J. Loessner and Richard Calendar. FEMS Microbiology Letters 326:151-160, 2012.
Complete nucleotide sequence and molecular characterization of Bacillus phage TP21-L and its relatedness to other phages with the same name. Jochen Klumpp, Richard Calendar, and Martin J. Loessner. Viruses 2:961-971, 2010.
Comparative genome analysis of Listeria bacteriophages reveals extensive mosaicism, programmed translational frameshifting, and a novel prophage insertion site. J. Dorscht, J. Klumpp, R. Bielmann, M. Schmelcher, Y. Born, M. Zimmer, R. Calendar and M. J. Loessner. J. Bacteriol 191:7206-7215, 2009.
Killed but metabolically active Bacillus anthracis vaccines induce broad and protective immunity against anthrax. J. Skoble, J. W. Beaber, Y. Gao, J. A. Lovchik, L. E. Sower, W. Liu, W. Luckett, J. W. Peterson, R. Calendar, D. A. Portnoy, C. R. Lyons, and T. W. Dubensky. Infection and Immunity 77:1649-1673, 2009.
Terminally Redundant, non-permuted Genome of Listeria Bacteriophage A511: a Model for the SPO1-like Myoviruses of Gram-Positive Bacteria. J. Klumpp, J. Dorscht, R. Lurz, R. Bielmann, M. Wieland, M. Zimmer, R. Calendar, and M. J. Loessner. J. Bacteriol. 190:5753-5765, 2008.
The Bacteriophages. R. Calendar, Editor. Oxford University Press, New York, 2006.
Construction, Characterization, and Use of two Listeria monocytogenes site-specific phage integration vectors. P. Lauer, M. Chow, M. J. Loessner, D. Portnoy, and R. Calendar. J. Bacteriol. 184: 4177-4186, 2002.
Photo credit: Mark Hanson at Mark Joseph Studios.
Last Updated 2013-05-31