Principle Investigator
Current Lab Members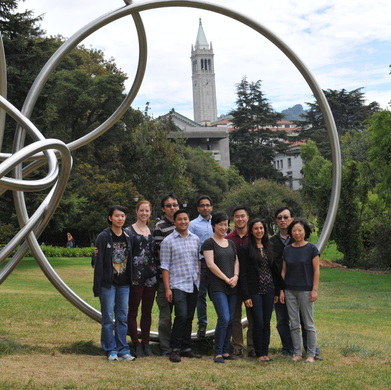 Post-doctoral Fellows

Graduate Students
Zhan Zhao
zhanzhao @ berkeley.edu

I'm interested in the role and regulation of programmed necrosis in T cells.

I'm an avid Redditor, explorer of SF Bay Area, and have my own panda.


Karl Banta
klbanta @ berkeley.edu

My research interests include understanding how T cell receptor signals can control Nur77 expression, and identifying roles for Nur77 in cancer.

In addition, I like to surf, travel, and try new flavors of wine and beer.


Lab Manager
Undergraduate Researchers
Winnie Yao (MCB, 2016)
Xinyue Wang (MCB 2017)

Lab Alumni
Positions of Selected Past Lab Members:
Megan Burger, Postdoctoral fellow , MIT
Francis Chan, Associate Professor, University of
Massachusetts at Worcester
Andrea DeYoung, Medical Director, Symbiotix
Paul Diaz, Chief Scientific Officer, Cyternity, Inc.
G. Diehl, Assistant Professor, Baylor University.
Joanna Halkias, Assistant Adjunct Professor, UCSF
Nancy Hong, Managing Director at RiverVest Venture Partners
Zi-Chun Hua, Professor, Nanjing University, China.
Herb Kasler, Research Scientist, Gladstone Institute, UCSF.
Nikki Kong, Postdoctoral fellow, Harvard.
Anna Kuang, Director of Craniofacial Disorders Program,
Oregon Health and Science University, Portland.
Joseph Marine,Associate Professor, Johns Hopkins University.
Ben Ortiz, Professor, Hunter College, New York



Stephanie Osborn, Research Scientist, UC Davis
Arvind Rajpal, Vice President, Bristol-Myers Squibb.
Decha Sermwittayawong, Assistant Professor, Prince of Songkla University, Thailand.
Fan Shen, Senior Staff Engineer, Ion Torrent/Life Technologies
Sue Sohn, Scientist, Amgen.
Virginia Smith-Shapiro, Professor, Mayo Clinic.
Allen Wensky, Senior Regulatory Reviewer, FDA
John Woronicz,, Senior Scientist, KaloBios
Jennifer Young, Scientist, Pharmacyclics.
Jianke Zhang, Associate Professor, Thomas Jefferson
University.
Ling Xue, Associate Director of Clinical Development, BeiGene, China.
Zheng Xing, Associate Professor, University of Minnesota, St
Paul




Post-doc Alumni:
Jianke Zhang (Ph.D. Purdue)
Alicia Barcena (Ph.D., Spain)
Anna Kuang (M.D. Cornell)
John Rooney (Ph.D. Harvard)
Ben Ortiz (Ph.D. Stanford)
Fan Shen (Ph.D. Michigan State)
Sue Sohn (Ph.D. University of Washington)
Arvind Rajpal (Ph.D. UC Berkeley)
Z. Hua (Ph.D. Nanjing Univ)
Zheng Xing (Ph.D. Cornell Univ)
Hee-Jung Kim (Ph.D. Ewha Womans University)
Allen Wensky (Ph.D. NYU)
Decha Sermwittayawong (Ph.D. Penn State)
Joanna Halkias (M.D. Albert Einstein)
Jennifer Young (Ph.D. U. Texas Southwestern)
Ling Xue (Ph.D. U.C.Berkeley)
Jessie Luoma (Ph.D. University of Minnesota)
Ruiqing Wang (Ph.D. City of Hope, Duarte)


Graduate Student Alumni:
Joseph Marine (Master 1991)
Virginia Smith (Ph.D. 1994)
John Woronicz (Ph.D. 1995)
Barbara Calnan
Francis Chan (Ph.D. 1996)
Nancy Hong (Ph.D. 1997)
Paul Diaz (Ph.D. 1998)
Herb Kasler (Ph.D.2000)
Nisha Kabra (Ph.D. 2000)
Andrea DeYoung (Ph.D. 2002)
Gretchen Diehl (Ph.D. 2003)
Herman Yue (Ph.D.2004)
Biana Yelent (Master 2007)
Stephanie Osborn (Ph.D. 2009)
Jennifer Thompson (Ph.D. 2009)
Zach Bohannan (Master 2010)
Megan Burger (Ph.D. 2014)
Suruchi Nandu (Ph.D. 2014)
Nikki Kong (Ph.D. 2014)


Undergraduate Alumni:
Yoon Choi (1992)
Sarah McAlister-Samayoa (1993)
Vu Nguyen Ngo (1994)
Steve Lee (1994)
Vincent Yingsheng Chen (1995)
Perry Pei-yi Lee (1995)†
Laurence Cheng (1996)†
Sherry Hsieh (1997)
Buyung Santosa (1999)‡
Chirag Patel (2000)
Lianne Hsing (2002)
Yuri Cho (2003)
Brie Sarvis (2003)
Tuyen Trinh (2003)
Daniel Garcia (Summer 2003)
Kristina Hsieh (2003)
Mary Ho (2003)
Linda Lee (2007)
Leslie Chiang (2010)†
Bo He (2010)



Victoria Liu (2010)
Hannah Whang (2010)
Nadia Kurd (2011)
Kenneth Leung (2011)*
Tina He (2012)
Neha Chandra (2013)*
Erin Dunn(2012)
April Choi (2014)*
Daniel Trisno (Summer 2014)
Sean Sunjoto (2015)
Winnie Yao (2016)

*Recipient of the Immunology Division Citation Award in
Research Excellence
†Recipient of the Immunology Divisional Oustanding
Citation Award
‡Recipient of the MCB Departmental Citation Award