<![if !vml]>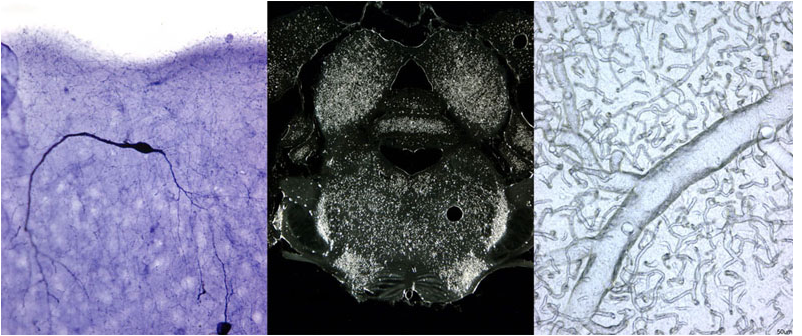 <![endif]>
Neuroanatomy stands in a similar relation to the neurosciences as mathematics does to physics. Neuroanatomy can specify the substrates that underlie normal and pathological function as well as neural plasticity. Without a neuroanatomical framework, physiological hypotheses are less robust than they might be.
We wish to understand brain function using the auditory system as a model. We are now deriving the structural principles that underlie tonotopic and binaural processing in the auditory midbrain, thalamus, and cerebral cortex. Connectional tracers (cholera toxin beta-fragment, biotinylated dextran amines, and fluorescent compounds), and transmitter-specific labeling methods (immunocytochemistry and anterograde transport) label functional brain circuits.
Collaborative physiological and anatomical experiments with Dr. Christoph Schreiner at UCSF then address functional questions about cortical modular and laminar organization. This enables us to pursue functionally driven hypotheses about the organization of the auditory system. The ensuing findings have significance for understanding larger principles of brain function such as topography, evolution, and plasticity.
<![if !vml]>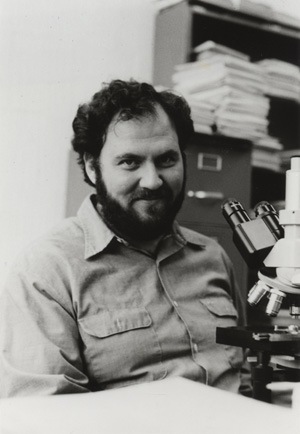 <![endif]>
Dr. Jeffery A. Winer died peacefully at 1:08 AM (PST) December 9, 2008. His sister Jane, was at his side at his home in Benicia, California.
Jeff was born in Minneapolis, MN on November 16, 1945. He lived in Minnesota as a young man and moved to Phoenix Arizona for middle and high school. He got his bachelorŐs degree in psychology at the University of Arizona in 1967 and received his Ph.D. at the University of Tennessee in Knoxville, Tennessee in physiological psychology in 1974. After post-doctoral studies with Irving Diamond at Duke university (1974-1977) and later with Kent Morest at the University of Connecticut, in Farmington, he came to Berkeley in 1979, joining the Department of Anatomy and Physiology and set up his lab on the 4th floor of the old Life Science Building. His mission at the time was to decipher the connections and functions of the auditory thalamus. In 1989, in the reorganization of the biosciences on campus, he chose to join Molecular and Cell Biology rather than Integrative Biology – a decision based mostly on the fact that choosing the latter would have meant moving the lab twice rather than only once. So the lab moved into LSA just a few weeks before the Loma Prieta Earthquake. A few petri dishes rattled and slide boxes tipped over but the earthquake lips on the shelves held and not a slide was broken!
A scholar classically trained in the 19 century Golgi method, a technique for staining individual isolated neurons, Jeff is perhaps the last of his generation to have that intimate knowledge of neurocytology that comes with countless hours at the drawing tube of his microscope. This perspective continued to inform his vision of how the brain is organized. The great Spanish neuroanatomist, Santiago Ramon y Cajal was the pioneer in this approach at the turn of the last century.
The work evolved technically to tract tracing studies of the central auditory pathways from the auditory medulla to the midbrain, thalamus and finally a series of papers on the auditory cortex and the many specialized subdivisions he helped identify.
The work was honored with a Claude Pepper award in 1993 when we received a 7 year grant, giving him a couple of extra years before having to go back to the NIH for more funds.
Locally, he will be remembered most for his generosity as a mentor to students – those in his class – those in his lab – and the many advisees he saw on a weekly basis. He was more accessible than most faculty – He loved the pedagogic role and his openness to students made him quite popular. He wrote more letters of recommendation in a month than many others would be asked to write in a year – not just for students but for colleagues applying for jobs and faculty advancement.
He is survived by his mother Eileen Winer, 94 and his sister Jane Winer and her partner (and adopted sister, Carol Galbraith) of Maryland.
In lieu of flowers, donations may be sent to the Jeffery Winer Memorial Scholarship:
University of California, Berkeley
Department of Molecular and Cell Biology
Jeffery Winer Memorial Scholarship Fund
142 Life Sciences Addition #3200
Berkeley, CA 94720-3200
Lab Location: 289 LSA
Tel: 510.642.9637
Fax: 510.642.6791
For more information:
UC Berkeley Press Release: Neuroanatomist Jeffery Winer has died at 63
The Jeff Winer Neuroanatomy Blog