---
Dillin Lab News and Upcoming Events:
7/29/2014 Dillin Lab Wormapalooza in Tomales Bay!! Oyster carnage might be everywhere. 
6/3/2014 We welcome Josh Garcia, our Amgen Summer Student, to the lab. 
5/22/2014 Celine Riera's paper is published in Cell! Read her paper here. 
5/8/2014 Congratulations to former post-doc Andrea Carrano on her Nature Communications paper. Read her paper here. 
5/5/2014 We welcome two new graduate students!! Gilbert Garcia and Celeste Riepe. 
4/21/2014 We welcome Nan Xin, a new research associate with the lab!
3/27/3014 Suzy and Andy publish a massive review in Cell. This will take a while for you to read. 
3/20/2014 Congratulations to Rebecca Taylor on her offer of a tenure-track position in Cambridge!
---
Dr. Dillin's laboratory works on the genetic and molecular mechanisms that regulate aging and aging-related disease. The Dillin lab is particularly interested in understanding why an organism begins to lose control over the quality and integrity of its proteins as it ages, and how the recognition of protein misfolding stress is communicated to distal tissues and organs. The lab utilizes emergent technologies to look at the manipulation of stress response pathways within a specific cell type or a single subcellular compartment within a specific cell type. In its research, the Dillin lab works with a variety of organisms, including mice and stem cells. However, the lab's historic roots are in working on the nematode C. elegans, a well-established model organism in aging studies. Dr. Dillin's laboratory is located on the fourth floor of the Li Ka Shing Center at the University of California, Berkeley.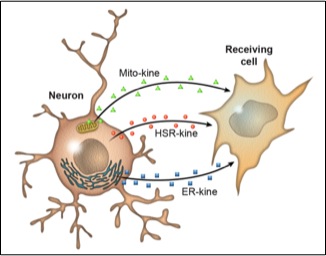 Above: Work in our lab has helped to uncover stress signals eminating from distinct subcellular stress responses in neurons. These signals, which can originate from the endoplasmic reticulum (ER-kine), the cytoplasmic heat shock response (the HSR-kine), or the mitochondria (the Mito-kine), converge on distal tissues to regulate aging and organismal homeostasis. 
Thomas and Stacey Siebel Distinguished Chair in Stem Cell Research
 Howard Hughes Medical Institute ♦ Department of Molecular and Cell Biology ♦ University of California, Berkeley