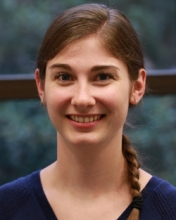 Katie Carson
MCB Academic Advisor
Hometown: Sheboygan, WI
Education:
BA, Studio Art and Art History, Calvin College
M.Ed, Higher Education emphasis in College Student Affairs Leadership, Grand Valley State University
What I did/experiences before Cal? My background is in Studio Art and Art History. Through my studies I learned that I loved art because of the unique way people are able to tell their stories through art. This discovery eventually lead me to student affairs. Advising is another way to learn about people's stories and help students develop the next steps of their unique stories. Before Cal I worked as an Academic Advisor for Grand Valley's Padnos College of Engineering and Computing. While completing my maters degree, I also worked in the Career Development Office working with undecided majors and career test assessment.
What you love about Cal and working in the UAO? It is very exciting to work with such exceptional students who are going to do such amazing things here at Cal and after graduation. The professional and student staff are also so welcoming and helpful, it's a great place to work!
Interests: Dancing, ceramics, visiting museums, electro swing music, hiking, traveling, cooking, trying new restaurants, board games, typologies.
Life Motto: "You are the master of your own destiny"
Advisor Tip: Learn about yourself: know how you learn, what motivates you, your strengths, what makes you unique and capitalize on that.