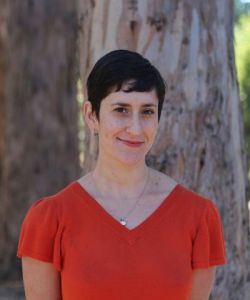 Biochemistry, Biophysics and Structural Biology
What sparked your interest in science?
As a kid, I spent a lot of time engrossed in "PuzzleMania" magazine. A typical game consists of two frames next to each other and you have to find the hidden discrepancies between them. I think of molecular biology research as an extenuation of this concept; find the difference between your control and experimental group.
Of course, science is a better version of this game because you get to set up a thoughtful experiment and if you (hopefully) found any discrepancies, what you found could speak to a larger truth about how something works. Then, you get to tell other people what you found! How cool is that. 
What attracted you to UC Berkeley?
I will just state the obvious, UC Berkeley is a fantastic institution and I am proud to represent our university. On visiting, I spoke to upper year students who were happy and thriving, excitable professors who were completely approachable. During this visit, I absolutely loved that Cal does not bother hand holding potential graduate students or make current graduate students act as an escort. Instead, I was given a map and a timeline of interviews. I had free time to do whatever I wanted- sit in the shade of redwoods by a creek on campus, ascend the clock tower for a spectacular vista, mingle with current students taking a break for free coffee and pastries.
I was also attracted to the structure of the graduate program- it is an umbrella program consisting of smaller subdivisions- this allows you to wade into new areas of research and test the waters. For someone like me, who had only an idea of what she wanted and only a certain set of skills, this was ideal. I rotated with a genetics group, a biophysical group, and a cell biology group, this allowed me to broaden my scientific scope and gave me confidence that I was making the right decision when it came time to choose a research group.
What are you currently working on in the lab?
Do you wonder about survival mechanisms? How an individual cell deals with stressful conditions? I am focused on how the fundamentally conserved cellular pathway called autophagy becomes initiated on the molecular level. In this pathway, an entirely new organelle must form to surround molecular constituents. An essential signal must be generated to allow the expansion of this new membrane source. I study a large protein complex called Phosphatidyl-Inositol 3 Kinase Complex I (PI3KC3-C1) that generates this signal, through cryo-electron microscopy methods. I found that another protein, NRBF2, activates PI3KC3-C1 and I am now focused on the mechanism by which this activation occurs.
Describe your ultimate dream/goal for your future.
My goal is to be happy doing something worthwhile. What that means varies every time I'm asked. Simply, I intend on pursuing a life in research. [Or, maybe I will own a bar and call it PubMed. ]
When I'm not in the lab, I can be found...
When I'm not in the lab, I am eating good food with good people. Combining that with exercise is optimally efficient. Some real examples might be: hike in Marin then dinner at Sol Food, climbing at Cragmont then burritos, long bike ride across the Golden Gate Bridge then burgers. The combinations are endless and I love that about where I live.
By myself, I enjoy running through north Berkeley, stopping at the small lending libraries (best find was two novels by Zadie Smith), admiring the view at Indian rock. Or, since there are hundreds of unique coffee spots to choose from, I check out those on the weekend, I owe much of my academic writing to them. 
If you could go back in time and give yourself a piece of advice during your first year in graduate school, what would you say?
Coming to a large, impressive school like Cal initially felt a tad intimidating, a feeling of "imposter syndrome." On day one, an esteemed faculty member addressed this concept and just said it is normal- brush it off. Don't let it limit you or your goals for the future. Besides they said, everyone in that room belonged to be there.
The other piece of advice I received was that there is no such thing as a perfect lab. You spend rotations searching for the right fit, I recommend searching for an environment in which you can do your best work.