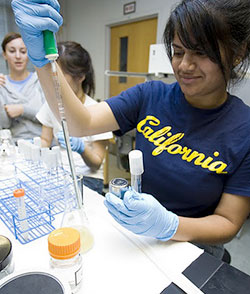 We welcome applicants to our program students with outstanding undergraduate records in the biological, chemical, or physical sciences. We seek students able to approach a challenging, research oriented graduate program leading to careers in academic, private, and public service in the biological sciences. We wish to attract those who will demonstrate leadership, creativity, and commitment in the vigorous pursuit of new scientific knowledge.
Campus and Department- An introduction to the UC Berkeley campus and the Molecular & Cell Biology department.
Ph.D. Program Information- An overview of our Ph.D. program including courses, laboratory rotations, teaching and qualifying examinations.
Admissions and Recruitment- Information about applying to the program including links to the online application
Alumni - Information about career paths of our Alumni
Diversity Resources - Information about diversity resources at UC Berkeley (see also: MCB Diversity)
Frequently Asked Questions - Answers to the most common questions prospective students ask
Why MCB? - View many reasons why you should apply to the MCB graduate program
Student Perspectives - Read what current students think about the graduate program
Student Publications - View selected recent publications by MCB students
Seminars, Colloquia, and Symposia - Description of the extensive and varied seminars and events
Contact the Graduate Affairs Office if the resources above do not address your questions.