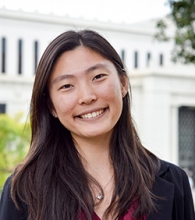 Immunology & Pathogenesis
What is your favorite class?
My favorite MCB class has been MCB 150 (Molecular Immunology). The class is structured to help you understand the basis of immunology and then challenges you to apply that knowledge to common diseases that we've all heard of. It's very exciting to read a news article about these diseases we've just learned about in class and be able to incorporate our foundational knowledge of immunology with the real world application of medical treatment and vaccines.
How is MCB preparing me for my chosen career path?
MCB has helped me develop me an analytical framework for approaching problems in order to develop innovative medical solutions for the future. Some of my favorite moments in MCB classes would be when my professors would present a practical problem – whether it's a disease to be treated or a public health problem to be resolved – and ask for our opinions for the next steps research could explore. There are just so many unanswered problems that scientists all over the world are on the precipice of unraveling, and it's always exciting to be challenged in class to solve problems that no one really knows the answers to. I am interested in entering the realms of medicine and public health, and these are going to be the types of problems I know I will one day be asked to answer. Being able to develop that way of thinking is something that my MCB classes have been successful at preparing me for.
Who was your favorite professor?
My favorite professor was Professor Nilabh Shastri, who teaches Molecular Immunology (MCB 150). He's not only a great lecturer, but his office hours are also always filled with amazing discussions and great stories about the direction immunology research is headed in. He's always very passionate about any and all questions we come to the table with, and somehow always up to date with recent anecdotes about very interesting, odd immunology research. Even though I came into the class with very little experience with immunology, he definitely helped me develop my passion in this emphasis and remind me why I loved the biological sciences so much.