Neuroscience Book: Brain-Mind Odyssey
Foundational Concepts of Neuroscience: A Brain-Mind Odyssey presents brain science in rigorous yet easy-to-understand ways, with a focus on concepts of interest to all readers. Comprehensive enough to use as a textbook in a college class, it is at the same time meant for any and all readers interested in learning about neuroscience - getting quickly and concisely to the main points essential for understanding the structure and function of nervous syetms and brains.  From molecules and cells to mind and consciousness, the known and the mysterious are discussed in the context of the history of modern biology.

Contemporary science provides us with a physical description of reality that has stunning beauty and powerful explanatory utility, and the biological sciences fit nicely into this framework. Life is understood in terms of molecular components, and consciousness is thought to somehow emerge from the physical processes of molecules and cells. Is this the full story? Or are mind and consciousness more mysterious, interesting, and weird than we are currently willing and able to describe. Perhaps the most exciting things in brain-mind science are yet to come!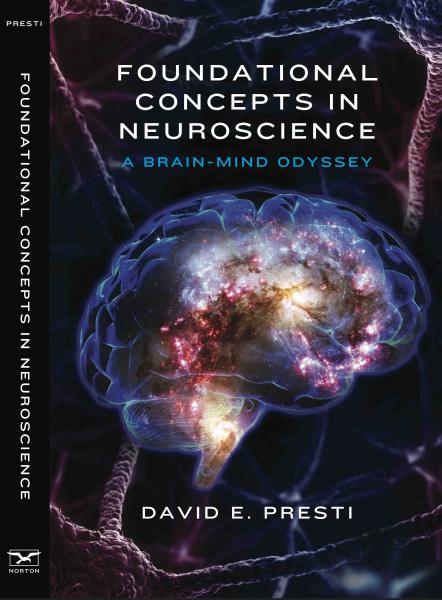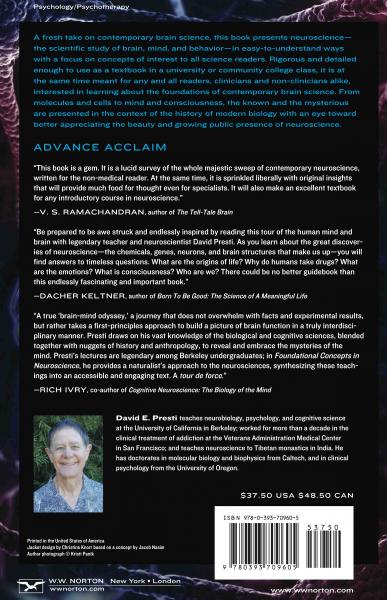 Book Contents and Preface                     Book Cover                     W. W. Norton Link                      Amazon Link

"A true 'brain-mind odyssey'....a naturalist's approach to the neurosciences....an accessible and engaging text.
        A tour de force."
               Richard Ivry, University of California, Berkeley; author of Cognitive Neuroscience: The Biology of Mind
"Be prepared to be awe struck and endlessly inspired by reading this tour of the human mind and brain....
       There could be no better guidebook than this endlessly fascinating and important book."
               Dacher Keltner, University of California, Berkeley; author of Born To Be Good: The Science of a
                      Meaningful Life, and Understanding Emotions
"Check out David Presti's new book, which has become my indispensable go-to primer on neuroscience."
               Michael Pollan, University of California, Berkeley; author of The Omnivore's Dilemma, The Botany
                      of Desire, Cooked, Food Rules, and others... [tweeted at @michaelpollan]

"This book is a gem....a lucid survey of the whole majestic sweep of contemporary neuroscience..."
               V.S. Ramachandran, University of California, San Diego; author of The Tell-Tale Brain
                       and Phantoms in the Brain
Book Reading Events:

Thursday, May 19, 2016
Books Inc., 1491 Shattuck Avenue (at Vine), Berkeley
Wednesday, April 20, 2016
University Press Books, 2430 Bancroft Way, Berkeley