Home

Faculty and Research

Faculty by Name

Woj Wojtowicz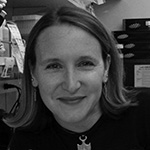 Woj Wojtowicz
Bowes Research Fellow

Full Directory Information
Research Interests
The human brain is comprised of some 1010 neurons that form a precise circuit of some estimated 1013 synaptic connections. These connections can be broadly characterized into two classes: those that are established during development and remain largely unchanged throughout the life of the organism, or "hard-wired" circuits, and those that are modified in response to experience/activity, or "plastic" circuits. How hard-wired circuits form during development provides a fascinating problem in cell recognition and, as such, provides the basis for our research interests.

The task of forming precise synaptic connections between trillions of neurons requires extraordinary levels of recognition specificity. Indeed, when one additionally considers that each neuron must first navigate its way through the crowded spaghetti-like milieu of the developing brain comprising axonal and dendritic processes from many cells, this recognition problem becomes seemingly unfathomable.

The extraordinary recognition required to achieve the precise circuitry of the brain is mediated by molecular recognition events between cell surface proteins expressed on navigating neurites and proteins in the environment (secreted, embedded in the extracellular matrix and expressed on neighboring cells). These molecular recognition events are translated into cytoskeletal rearrangements within the navigating neurite that lead to directed motility. Signals may be attractive causing growth toward or along the cue, or repulsive causing growth away from the cue. In this way, the interactions between the myriad of cell surface molecules expressed on a neurite and those in the environment guide each neurite to its specific synaptic partner and mediate synapse formation.

A global understanding of how the complex circuitry of the brain is sculpted during development requires: 1) an inclusive description of the neuronal cell surface interactome and 2) identification of the functional consequence that each interaction has on developing neurites. To date, only a small number of interacting molecules and the instructions they provide to neurites during wiring have been identified. This is due, in part, to the lack of high-throughput screening techniques to investigate interactions between large numbers of cell surface molecules and functional redundancy in vivo which often make it difficult to identify phenotypes associated with recognition molecules in genetic screens. We believe that these limitations can be overcome through interdisciplinary work melding aspects of nanotechnology with biochemical and cell biological methodologies.

Our research interests are focused on gaining a more global insight into the breadth of molecular recognition events that occur during development and the functional consequences that these interactions have on developing neurites. To this end, we are employing a combinatorial approach that entails high-throughput biochemical screens to identify cell surface recognition partners and in vitro microculture systems to ascertain the effect of these interactions on neuronal growth.
Selected Publications
Sawaya MR*, Wojtowicz WM*, Andre I, Qian B, Wu W, Baker D, Eisenberg D, Zipursky SL. (2008). A double S shape provides the structural basis for the extraordinary binding specificity of Dscam isoforms. Cell. 134, 1007-1018.

Hattori D*, Millard SS*, Wojtowicz WM*, Zipursky SL. (2008). Dscam-mediated cell recognition regulates neural circuit formation. Ann. Rev. Cell Dev. Biol. 24, 597-620.

Wojtowicz WM, Wu W, Andre I, Qian B, Baker D, Zipursky SL. (2007). A vast repertoire of Dscam binding specificities arises from modular interactions of variable Ig domains. Cell. 130, 1134-1145.

Zipursky SL, Wojtowicz WM, Hattori D. (2006). Got diversity? Wiring the fly brain with Dscam. Trends Biochem. Sci. 31, 581-588.

Wojtowicz WM, Flanagan JJ, Millard SS, Zipursky SL, Clemens JC. (2004). Alternative splicing of Drosophila Dscam generates axon guidance receptors that exhibit isoform-specific homophilic binding. Cell. 118, 619-633.

* Indicates equal contribution
Last Updated 2010-08-06