Home

Faculty and Research

Faculty by Name

Karsten Weis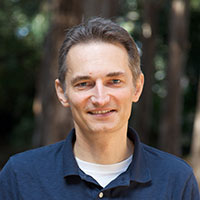 Karsten Weis
Professor of Cell and Developmental Biology
Lab Homepage:
http://weislab.berkeley.edu/

Full Directory Information
Research Interests
The interest of our laboratory is centered on very fundamental questions in eukaryotic cell biology: how are macromolecules properly localized within a cell, and how do eukaryotes take advantage of transport and compartmentalization to regulate their gene expression programs? Our work particularly focuses on studying transport processes between the nucleus and the cytoplasm. The exchange of macromolecules between the nucleus and the cytoplasm is absolutely essential to establish and maintain order in eukaryotic cells, and constitutes an important step in the regulation of gene expression. Our laboratory combines genetic, biochemical, cell biological and biophysical approaches in Saccharomyces cerevisiae and in metazoan cells to characterize and analyze the molecular machinery that is responsible for the transport of macromolecules into and out of the nucleus.
Current Projects
Research projects, which are currently being pursued in the lab seek to address some of the following questions. How does the nuclear pore complex function and assemble? How is mRNA directionally transported across the nuclear pore complex? How does the regulation of mRNA degradation contribute to the regulation of gene expression? How does the three-dimensional organization of the genome affect gene expression? What are the roles of the GTPase Ran in interphase and mitosis?

To solve these fundamental problems we apply a wide range of methods including yeast genetics and cell biology, in vitro biochemistry, systematic high-throughput approaches, mammalian tissue culture, fluorescence microscopy, structural biology (with J. Berger's lab), single molecule imaging (with J. Liphardt's lab). In addition, we always seek to develop novel techniques and innovative approaches to answer the intriguing questions listed above.
Selected Publications
Green, E.M., Jiang, Y., Joyner, R., Weis, K. (2012) A negative feedback loop at the nuclear periphery regulates GAL gene expression. Mol Biol Cell, 23:1367-1375. PMID: 22323286.

Carroll, J.S., Munchel, S.E. and Weis, K. (2011) The DExD/H box ATPase Dhh1 functions in translational repression, mRNA decay and P body dynamics. J Cell Biol, 194:527-37. PMID: 21844211

Munchel, S.E., Shultzaberger, R.K., Takizawa, N. and Weis, K. (2011) Dynamic profiling of mRNA turnover reveals gene-specific and system-wide regulation of mRNA decay. Mol Biol Cell, 22:2787-95. PMID: 21680716

Soderholm JF, Bird SL, Kalab P, Sampathkumar Y, Hasegawa K, Uehara-Bingen M, Weis K, Heald R. (2011) Importazole, a Small Molecule Inhibitor of the Transport Receptor Importin-β. ACS Chem Biol. 6, 700-8.

Montpetit, B., Thomsen, N.D., Helmke, K.J., Seeliger, M.A., Berger, J.M. and Weis, K. (2011) A conserved mechanism of DEAD-box ATPase activation by nucleoporins and IP6 in mRNA export.Nature, 472:238-42. PMID: 21441902

Onischenko, E. and Weis, K. (2011) Nuclear pore complex - a coat specifically tailored for the nuclear envelope, Curr. Opin. Cell Bio., Feb 4.

Lowe, A.R., Siegel, J.J., Kalab, P., Siu, M., Weis, K. and Liphardt, J.T. (2010) Selectivity Mechanism of the Nuclear Pore Complex Characterized by Single Cargo Tracking. Nature,467:600-3.

Dossani Z.Y., Weirich C.S., Erzberger J.P., Berger J.M., Weis K. (2009) Structure of the C-terminus of the mRNA export factor Dbp5 reveals the interaction surface for the ATPase activator Gle1. Proc Natl Acad Sci U S A., 106:16251-6.

Onischenko, E., Stanton, L.H., Madrid, A.S., Kieselbach, T. and Weis, K. (2009) Role of the Ndc1-interaction network in yeast nuclear pore complex assembly and maintenance. J Cell Biol,185, 475-91.

Kalab, P., Pralle, A., Isacoff, E.Y., Heald, R. and Weis, K. (2006) Analysis of a RanGTP-regulated gradient in somatic cells. Nature, 440:697-701.

Blower, M.D., Nachury, M.V., Heald, R. and Weis, K. (2005) A Rae1-containing ribonucleoprotein complex is required for mitotic spindle assembly. Cell, 121: 223-234.
Last Updated 2012-08-15