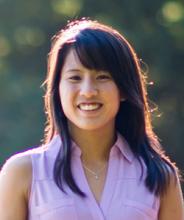 Biochemistry, Biophysics and Structural Biology
Finding a graduate program that matched my interests and personality was very important to me. I wanted a place with exceptional research and resources, and most importantly, where I would be stimulated and nurtured as a trainee. The interview process showed me that the MCB program at UC Berkeley was the place for me. The professors at Berkeley are top notch and have a strong commitment to mentorship. The students here are brilliant and dedicated, and I could easily tell during the interviews that they were having a great time.
I'm now a second-year student in Susan Marqusee's lab, and we investigate how a protein's structure, folding, and dynamics are encoded in its amino acid sequence. During evolution, as a consequence of genetic mutation, proteins accumulate changes in their amino acid sequence.  Because a protein's sequence defines its properties, the activity, stability, and interaction partners of each protein are affected by sequence changes. My project focuses on understanding this process by looking at the evolutionary history of proteins through a technique called ancestral sequence reconstruction.
I love my research because it spans the fields of protein biophysics and evolutionary biology, two areas that do not often intersect. My project allows me to interact with a wide range of researchers who are all interested in these questions from different perspectives. I have also become well versed in a variety of methods that span multiple disciplines. Even though I'm still in the first half of my graduate career, I've grown to lead my own project, thanks to the excellent training environment.
There are also so many things I love about living and working in the Bay Area. I love the outdoors, so when I'm not in lab, I'm usually rock climbing, eating at excellent restaurants in the area, and hanging out with friends. The ocean, deserts, and mountains of California are just a few hours drive, and people are always up for an adventure. Many of my climbing and camping friends are colleagues in our program! When I think about this unique intersection of culture, art, food, and the top research institution that is UC Berkeley- you really can't ask for better.
Undergraduate University: Massachusetts Institute of Technology