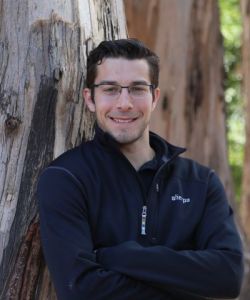 What sparked your interest in science?
I was always interested in science, especially after taking AP Bio in high school. However, I would say the moment that cemented my interest in science was seeing a mutant phenotype in Xenopus laevis that had been injected with RNA targeting a proton pump in my undergraduate research lab. 
What attracted you to UC Berkeley?
I was particularly attracted to Berkeley because of their emphasis on graduate student development. There were numerous opportunities for presentations and all the labs I visited had a strong focus on providing their students with the best education possible.
And why would you not want to watch the sun set over the Golden Gate Bridge every day when you leave lab? 
What are you currently working on in the lab?
Right now I'm trying to determine how specific neurons in the mouse retina are instructed to synapse onto some neurons while avoiding others. 
Describe your ultimate dream/goal for your future.
I would love to have my own lab in which I can contribute to our knowledge of how the brain develops. 
When I'm not in the lab, I can be found...
Playing intramural sports on campus or eating at one of the many delicious restaurants in Berkeley. 
If you could go back in time and give yourself a piece of advice during your first year in graduate school, what would you say?
Don't worry, you'll be really happy in 5 years.