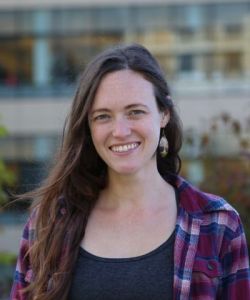 Genetics, Genomics, and Development
What sparked your interest in science?
My love for science began in my 10th grade chemistry class - I loved how everything in the world around me could be explained by the existence of atoms and molecules.
What attracted you to UC Berkeley?
The breadth of exciting research, the value that the MCB department places on its graduate students, and, of course, the beautiful Bay Area.
What are you currently working on in the lab?
I study how the stability of transcriptional silencing at a heterochromatic locus in budding yeast is affected by DNA transactions like homologous recombination.
Describe your ultimate dream/goal for your future.
Become Leslie Knope from Parks and Rec, travel around in a camper van for a few years, and do work toward saving the earth…possibly not in that order.
When I'm not in the lab, I can be found...
Biking, at the climbing gym, hiking, backpacking, playing my guitar, or cooking up something tasty.
If you could go back in time and give yourself a piece of advice during your first year in graduate school, what would you say?
Don't fear failure! Expect it, embrace it, and celebrate it as an opportunity to learn.