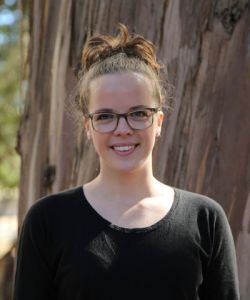 Immunology and Pathogenesis
What sparked your interest in science?
My high school science classes were fun, interesting, and came naturally to me.
What attracted you to UC Berkeley?
The most important thing for me in my decision to attend Berkeley was the attitude of the people I met here. Both PI's and students alike are easy-going and collaborative while producing great work. I love the people I work with and I feel inspired by our MCB community to both work hard in lab and take advantage of all that the Bay Area has to offer.
What are you currently working on in the lab?
I'm working on tropism-dependent entry mechanisms of Kaposi's Sarcoma-Associated Herpesvirus (KSHV), a human oncovirus.
Describe your ultimate dream/goal for your future.
I want to spend my life after graduate school educating and inspiring young people about science.
When I'm not in the lab, I can be found...
...at the gym or one of Berkeley's outdoor pools (staying healthy during graduate school is very important!), enjoying the peninsula's open space preserves on the weekend, or at my home in San Francisco.
If you could go back in time and give yourself a piece of advice during your first year in graduate school, what would you say?
Remember to take some time for yourself to stay healthy and establish a balance between graduate school and your personal life.